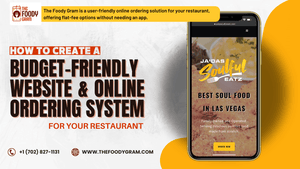 How to Create a Budget-Friendly Website and Online Ordering System for Your Restaurant
Running a food truck, café, or restaurant is rewarding, but leveraging online ordering and delivery platforms can be costly. Although they broaden your customer reach, these platforms often take around 30% of your revenue per order. Instead, consider setting up an affordable online ordering system to save money, get paid faster, and boost sales.
The Foody Gram is a user-friendly online ordering solution for your restaurant, offering flat-fee options without needing an app. By using this platform, you can accept more online orders via your website and enhance your online visibility with Google Optimization and SEO.
Setting up is simple:
Choose the Right Plan: Visit The Foody Gram's website, sign up, and pick a plan that suits your restaurant's needs:
• Web-based Menu: Perfect for food trucks and new restaurants, this option provides an accessible online menu for customers anywhere, anytime. .
• Online Ordering: Ideal for established eateries wanting to reduce fees and increase sales, this professional plan includes a restaurant ordering system that processes payments.
• Instagram Marketing: This social media add-on helps your restaurant maintain a consistent online presence. The Foody Gram will create content for your approval before posting it on Instagram or Facebook.
Upload Your Menu: Email your menu, food images, and logo to The Foody Gram or use the link in the sign-up email.

Focus on Your Business: Leave the technical details to The Foody Gram. They'll prepare a draft menu, which you should receive within five business days.

Spread the Word: Share the link to your restaurant's online ordering system on your website and social media accounts to inform customers about your new online ordering option!
Unsatisfied with the System?
The Foody Gram takes pride in its service. If you're unhappy with the system within the first 45 days, contact them to receive a refund for your set-up fee.
If you're ready to take your restaurant, food truck, or café to the next level with a budget-friendly online ordering system, don't hesitate to contact us. Visit our website at thefoodygram.com or give us a call at 702-827-1131. Our team is eager to help you set up a user-friendly and cost-effective solution tailored to your business's needs. Reach out to us today and discover how The Foody Gram can boost your sales and enhance your digital presence.
---