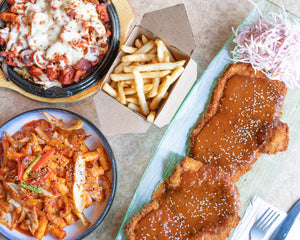 63% Of Customers Prefer To Order Directly From Restaurant's Ordering System
It's no secret customers love to order their favorite foods online. It's why big name platforms like Uber, Doordash, and Grubhub brought in over $7 billion dollars in 2021. Despite these large revenues, studies show customers actually prefer to order directly from their favorite restaurants, instead of using third-party applications.
A survey conducted by Sense360 found that 63% of online orderers actually prefer to order directly from a restaurant's website rather than using third-party apps.
Platforms like Uber don't only charge restaurant owners 30% in commission fees for orders placed on their platform, they also charge the consumer. On top of delivery fees, Uber has the capabilities to increase restaurant menu prices to make additional profits off the top.
Setting up your own restaurant online ordering system allows you full control of your digital presence. Our commission-free restaurant ordering system was built specifically for owners who want to save thousands of dollars each month.
It's the exact reason Mannino's Pizzeria switched and saved $15,000 in their first 6 months!  Here are a few ways our food online ordering system is different than the rest
Why should you use The Foody Gram's restaurant online ordering system?
Running a restaurant is no easy task. Balancing staffing, new menu items, and inventory while continuing to offer a high level of service is costly. Add third-party platforms that charge you 30% to your list and you have the perfect storm.
With The Foody Gram, we make things easy. You'll know exactly how much you're going to spend each month with our services. A flat fee billing structure not only allows you to scale your business but also spend more time and money on areas that require your attention.
Third-party platforms share little to no information on who is ordering from you. Without this information, Uber will continue to make 30% off you each time a customer repeatedly orders through their platform. This is why you need to begin building your own customer database.
With our online ordering system, you'll collect customer names, email addresses, and phone numbers. Use this information to bring customers back and turn first timers into regulars.
To get started, all we need from you is your logos, images, and menus. Our team will quickly build out your landing page and online ordering system. Need to make updates? Simply call our 24/7 support line and our agents will assist you in no time. No more long hold times or 90-minute calls waiting to speak to third-party support staff.
Save time money and effort today and begin using your own restaurant online ordering system.
Conclusion
Enhance your restaurant's digital presence and set up your custom online ordering system today. Save thousands of dollars in fees and give consumers the online experience they are looking for. By ordering direct, customers will give you their information allowing you to remarket to them while saving you thousands of dollars in commission fees. Our solution starts at $95 a month and will help you take back control of your brand.
Visit www.TheFoodyGram.com or call us at +1-877-762-1512 to speak to a representative.
---