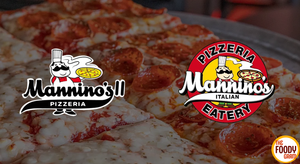 Pennsylvania-Based Pizzeria Uses The Foody Gram's Online Restaurant Ordering System And Saves $15k in 6 Months
Gone are the days when restaurant owners have to pay 30% of their profits to Grubhub, UberEats, or Doordash. Las Vegas based startup, The Foody Gram, offers commission-free online ordering software that is saving restaurant owners thousands of dollars.
Prior to utilizing The Foody Gram's online restaurant ordering system, Mannino's Pizzeria located in Pottstown Pennsylvania, was paying thousands of dollars a year to third-party providers who charged a commission for every order. These third parties charged Mannino's anywhere from 15-30% in commission fees. With The Foody Gram's food ordering system, Mannino's Pizzeria grossed over $50k in revenue and saved a whopping $15,000 in fees in the first 6 months!
Upgrading was simple and easy with our seamless onboarding process. Simply send us your restaurant's menu, logo, and images to our team and we'll quickly build out a landing page and custom-branded online ordering page.
Here are a few benefits that led this pizzeria to switch providers and save over $15,000 within 6 months.
No Contracts EVER
Convenient monthly plans designed to fit any business's needs. Pay the exact same amount every month and receive a customer online restaurant ordering system. Starting at less than $100 a month, our software solution is designed for restaurants of all sizes!
Equipped with 24/7 customer support, you will never have to make an update on your own. In this plan, you get remarkable features to create an online ordering system without the burden of high commission fees. Our affordable plans can help you scale your business without locking you into a hefty contract.
Don't Skip A Beat
The smart algorithm on our platform will allow local customers searching for you to easily connect with your restaurant and find you online. Our easy-to-use online ordering system was designed not only to increase revenue but to make your restaurant more accessible online. It will also help your customers to find and order your delicious food without the pesky 30% markup to counteract high commission fees.
Simplest process ever
Simply connect with our team, provide us with your menu, and review and approve the draft pages. The rest is easy and smooth. It will take us a few days to create your restaurant's online ordering system and go live.
Don't let your digital presence be a problem any longer. Now is the time to join this new revolution of digital food ordering solutions and start saving your restaurants thousands of dollars each month. By taking commission-free orders, you too can save more money and increase your online presence instantly. Our plan starts from $95 a month only and saves more than 30% on every order. Yes, it is that simple!
Call us at 1 877-762-1512 to book a free consultation or sign up at www.TheFoodyGram.com. 
---