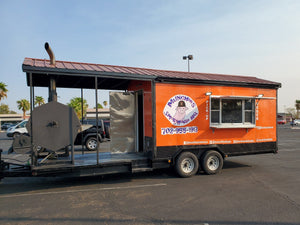 Tradition In BBQ Is The Worst Thing About BBQ
Barbecue has been an Americans go-to meal for decades. From Korean BBQ to island barbecue, there are numerous barbecue stylized meals that Americans eat.
But, what if traditional barbecue was not the go to meal? What if it were possible to spice things up and create a unique blend of barbecue? Well, Munchies Smokehouse BBQ, which is a local food truck owned by Chautez Ducharm and Brandon Jackson, is changing the barbecue game. 
Their Origin Story & Their Clientele
Ducharm is a Las Vegas native, born and raised, whereas Jackson grew up outside of Saint Louis, Missouri closer to the Kansas City area. Both are fans of barbecue meat, but Jackson has a stronger passion for it. When he moved out to Las Vegas, he explains,
"I totally forgot about anything barbecue, when I moved to Las Vegas. Then, I started going out on the road and went to a barbecue place in Texas, "Soul's Man Bar-b-cue" and stood in the line and I thought it was fantastic. It started a whole spark [that] I need to learn how to smoke meat."
After this trip, he bought a smoker and started cooking barbecue. According to Ducharm, "We cooked a lot of meat, messed up a lot of meat, made a lot of good meat. It was definitely fun cause he was traveling all around the country so he was able to really taste a lot of good food. Well, he said 'he actually tasted more bad food than he tasted good food, but that's what made him want to perfect it." 
Due to his travels, he was able to experience the different kinds of barbecue that was available throughout the county. They became inspired to cook delicious barbecue here in Las Vegas. Their journey however was not easy, they went through a few challenges. One being the COVID-19 pandemic, and as a result, they had to wait longer for their license.
Another struggle was due to their food truck; Ducharm said, 
"We did the work on the trailer ourselves. My brother-in-law came from Milwaukee and helped us do a lot of the work. But, we didn't really have a plan. We didn't meet with any type of designer or anything like that. We literally just winged it."
Not only did they remodel the inside using their creative juices and adding new sinks and appliances, but they also replaced rotting wood paneling for bright orange wrapped stainless steal. Everyone pitched in to make Munchies what it is today. Family members, including their children, helped rebuild the food truck that is operating today. 
They receive all kinds of customers everyday and they enjoy the menu. In fact, some customers even like to blend their own ideas; for example, you can add some crumbled chips onto the "Munchie Mac & Cheese" to create a "Munchie Mac & Nacho Cheese" bowl. It's always a fun time when customers are able to have multiple options and not be restricted with their menu.  
A Delicious, Unique BBQ Menu
Their food ideas are quite exquisite. What makes their meat options unique and delicious is that they mix foods together to create a masterpiece. Jackson states,
"I think tradition in barbecue is what is the bad thing about barbecue because most people get stuck in the tradition and they only think you can make a brisket a certain way. You can go online and see arguments about people that tell you have to cook it fat side up."
Since traditional meals tend to be limited, they decided that their best bet is to experiment with their food. They use sauces and spices that break away from the tradition to add a distinctive, savory meal. They sell all kinds of meat, such as chicken, pulled pork and brisket. One of their popular meals is the "Hot Link & Baked Bean Bowls," which is a plate of peach bourbon baked beans on top of some sausages. 
Ducharm declares,
"At the same time, when you get so wrapped up in [tradition], and you become fixated, then you just lose certain elements to it. With the way that food and cuisine is now, everything is like fusion. There are these different cultures mixing together and I've had friends from all over the world and just picking little things up from them really set the food on fire." 
On account for their passion for intermixing foods, they created another popular meal, which is their "Munchie Nachos." Although clients would assume that they are fusing generic tortilla chips, they are actually fusing other chips such as Hot Cheetos, Ruffles and Lays. They have been purchasing a wide variety of chip brands, so clients have multiple options to construct their own nacho plate, which they can even add some mac and cheese on it. 
The Future Screams Munchies Smokehouse BBQ
Even though Munchies' is a has just opened, they have quickly rose in popularity thanks to social media and their consumer's word of mouth. Both owners hope to expand their business but not in the traditional restaurant style. They prefer something faster, such as a fast food chain because they believe in express service. Jackson states, 
"Our's [future fast food restaurant] would have the smokers there and everybody would know. The meat would be smoked there so you're getting up fresh meat all day long while you're going through the line. We better get you through the line as fast as a McDonald's, Taco Bell or whatever, but it'll be straight ribs, barbecue, beef ribs, but coming straight from the fast food style. That's our goal.
If you are a fan of barbecue and also like to stray away from traditional foods, then Munchies is your next stop. 
You can view their entire menu provided by The Foody Gram by clicking here!
Written by Anthony Ruiseco
---