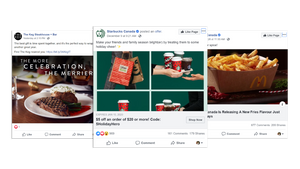 Why Every Restaurateur Needs To Use Facebook Ads
Any restaurant owner will tell you the day to day grind of owning your own business is a merry-go-round of inventory orders, managing staff, reducing costs, as well as how to increase sales while providing a valuable service to their customers.
Facebook provides a simple, yet effective opportunity for restaurateurs to advertise their business to millions of hungry consumers. Boasting billions of active users, the social media giant has the ability to market your business with your target clientele based on various criteria, which makes for effective and lucrative sales campaigns.
An added bonus to promoting your business on Facebook is the ability to simultaneously advertise on Instagram as Facebook owns both platforms.
It's The Most Popular Social Media Platform
(Image Credit: World Economic Forum)
Facebook is by far the most popular choice among social media users. As of May 2021, it had 2.85 billion active users, that's nearly 40% of the entire human population. 
Advertising on a high-traffic platform is extremely important because an increase in who frequents the platform means the wider net for you cast so you can extend your reach.
The average person spends 2 and a half hours scrolling social media each day, which adds up to over 38 days in a single year.
With such high levels of users, you can get your restaurant in front of thousands of potential customers. 
Expand Your Reach with Customized Ads
(Image Credit: Sourceline Media)
Choosing the correct ads to market your restaurant services is crucial to a successful marketing campaign. An effective strategy can ensure you reach your target audience with ease.
You can choose from a variety of ad options that provide a clear and direct method of informing your future customers about your business.
Image ads can be used to boost an existing post with an image from your Facebook page and video ads can run in consumer news feeds and stories and can appear in longer videos on Facebook. 
You can also take a more direct approach to engage with your clientele while learning more about their food preferences and eating habits. 
Lead ads are ideal for viewing on mobile devices and are a great tool to get your customers to order from your restaurant with a simple click. Dynamic ads remind customers to purchase a dish from your menu after visiting the page, which often proves to be one of the most effective advertising tools available.
You Can Learn More About Your Customers and What They Want
(Image Credit: Dissolve)
Facebook provides the tools you need to track how your customers are engaging with your ads, which can help you reach your target audience based on the specific objectives you have for your business.
You have the ability to track likes and shares of your posts and who watches your videos. 
Facebook also has over one million data points on its users and this allows you to understand the intuitive habits of your customers based on their occupation, income, food preferences and location.
Knowing How Your Investment Is Paying Off
(Image Credit: TwistArticle)
Warren Buffet, the investment genius of the modern age, once said that "Price is what you pay. Value is what you get," and the same can be said for advertising on Facebook. 
An investment is putting your money to work for you, even when you are sleeping, and running social media ads to market your restaurant is like having an employee market your business 24/7. 
Additionally, the ad metrics provided by Facebook allow you to track how effective your marketing campaign has been and the profitability of your advertisements, or, said investment. 
These tools allow you to determine which ads and strategies help to increase your profit, while also allowing you to pivot and make any adjustments to help you reach your sales goals.
Your brand and digital presence are the best investments you can make in your business. And with our Web Based Menu hosting service, we take care of it for you. We build a custom web based menu for your restaurant!
All for less than $20 a month.
Simply upload your menu, logo, and images and we take care of the rest. Sign up today at The Foody Gram.
Written By Beatrix Whilde
---