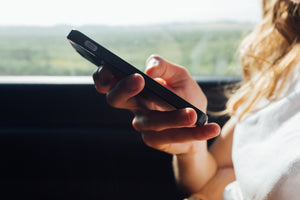 5 Technological Hacks To Help Customers Find Your Restaurant
The old days of ordering takeout over the house landline on a Friday night are long gone. With the advancement of technology, dialing the phone is no longer necessary in order to enjoy a nice warm meal at home, and word of mouth is no longer the only way to guarantee that the next restaurant you visit will be a five-star experience.
Smartphones specifically have not only made our dining experiences more pleasant but also more convenient to the point that our society would be unwilling to go back to the aged days of looking up their local pizza shop on a phone book and hoping the person on the other side will hear their order correctly over the other line.
Online delivery services are not the only game-changers when it comes to the modern dining experience.
There have been many advancements that technology has provided, from the presence of restaurants on social media to the use of QR codes at restaurants, progress doesn't seem to halt anytime soon.
Being aware of the different forms of technological conveniences our society enjoys can help restaurants understand what methods are best to incorporate into their businesses.
So, what effects and advantages do these new advancements really have on restaurants? Let's explore.
The Apps, Social Scene, and All in Between
Technology and the internet have never been as useful to the restaurant industry as they are today, that is why we see more and more restaurants lean towards the use of these technologies. Here are some of the most popular and effective forms:
1. Mobile Apps
Today, everyone carries a phone in their pockets, that is why mobile apps are one of the most convenient ways to order food.
Now, people can view a menu on their screens and order their food by placing an order on an app, like Uber or GrubHub.
This convenience eradicates miscommunication and makes less room for errors as the customer's order has been sent directly from the customer to the restaurant.
These apps also give the customer the option to either pick up their food or have it delivered to them, and for those customers that enjoy eating at a restaurant, mobile apps also make it easy for them to make a reservation at their favorite spot.
Restaurants can also make their own personalized apps where they can offer reward points as an incentive for customers to come back, which can be a great way to keep customer retention.
Personal apps are also an excellent way for restaurants to offer their loyal clientele perks like discounts and coupons which could be made only exclusive to those who have their app.
The offers that restaurants can provide to their customers are endless and with the help of push notifications, there's a slight chance they'll ever miss the next promotion. [Gazdecki, Andrew]
2. Social Media
Social media is a great way for establishments to connect and directly communicate with their clients.
People enjoy restaurants that are personable, where they are familiar with the food that is served and the staff that serves it. There are many social media platforms that give restaurants the opportunity to create their own community by posting pictures and videos of the food they prepare or by showing their audience snippets of what happens behind the scenes, in the kitchen.
Customers can interact by 'liking' or commenting under the establishment's posts. The more interaction the better as it gives the restaurant a possibility of going viral. 
Yelp is a popular social media engine that is catered solely for businesses and customers to interact. Here, customers can snap pictures of their food and themselves at a restaurant, write reviews on their experiences, and rate the restaurant from one to five stars, for potential clients to see.
This platform is a great way to be promoted by clients, as it gives them credibility for those who have not tried the restaurant yet. Also, the higher a restaurant is rated the easier it is to discover them on search engines, like Google or Bing.
3. QR Codes
Although QR codes have existed for quite some time,  their popularity spiked due to the current pandemic. QR codes offer a contact-free option for menus.
Now, customers can scan the code on their table and view the restaurant's menu right on their phones. This keeps the customer safe from germ contamination and also saves the restaurant's employees the hassle of needing to pass out and collect menus. But, touchless menus are not the only thing QR codes can be used for.
QR codes can also be used by restaurants as a fast and simple way for customers to view and follow their social media handles and even write a review on Google or Yelp, just from a quick scan of a code.
By placing these QR codes on the table, it makes it easier for employees to kindly ask their clients to give the restaurant a quick follow on Facebook or have them write a good review.
More likely than not, a customer will oblige as they won't need to go out of their way to google the restaurant or search for its username in a sea of social media accounts.
This process can result in the restaurant receiving a bigger social media presence and more credibility due to a higher number of reviews.
4. Search Engines
If all else fails, search engines are a great way to target those who are looking to eat somewhere new, but also close by.
As stated before, search engines promote restaurants that have good reviews, but not only that. Search engines can also promote restaurants by cuisine style, proximity, and even price.
Search engines are a great way for new clients to read an establishment's general information, but in order for a restaurant to stand out in a list of other restaurants it must offer a unique twist to the modern dining experience.
5. Web Based Menus
A Web Based Menu is a menu that is accessed via the internet and does not require customers to download a 3rd part app to view. It looks and feels just like a website for a fraction of the price.
This web page can be accessed and found via search engines, social media, or even QR codes. 
One benefit to having a Web Based Menu is that you (the restaurant owner) controls the customer experience. You can easily customize the layout, fonts, colors, and how customers view your photos.
Another strength to having a Web Based Menu is that it is is fairly inexpensive and can replace expensive websites. 
Web Based Menus are important because today, 77% of customers use a restaurants website to decide on whether they will eat there or not. According to Restaurantdive.com,
"33% of consumers were discouraged by a difficult-to-navigate website, and 30% were because the restaurant's website looked old or out of date."
Here at The Foody Gram, we will build host and manage your Web Based Menu for you. All for less than $25 a month. You can learn more by visiting TheFoodyGram.com.
Keeping Up with Technology
As a final observation, restaurants have a variety of tools to choose from when it comes to the advancements technology has offered over the years. These methods have shown to be effective not only to the convenience of the customer, but also to the profit of the restaurants who have adapted them.
As technology advances, so do the preferences and expectations of consumers; so, restaurants must also offer a unique experience along with their social media presence, mobile app options, and use of QR codes.
Keeping up with technology is not only crucial for everyday people but also for businesses that wish to succeed in such a fast-paced and high-tech environment.
Written by Julia Lemus



---
1 comment