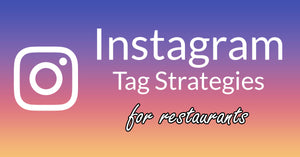 Instagram Tag Strategies To Expand Your Restaurants Reach
Instagram is not just about taking pictures. It's a great way to connect with others and find specific events and places by using its other features.
Instagram uses hashtags and geotags to not only help users find exactly what they are looking for, but to also help restaurants, events, and influencers expand their businesses. However, not many users, including influencers and restaurant owners, know how to properly use these features.
Here is how to improve your Instagram skills by writing specific words for hashtags and using geotags.
Using specific key words in hashtags improves the users experience 
An excellent way of using hashtags is to be as creative and specific as possible. Selena Slavenburg, a Chownow writer, states "To determine the best hashtags to use, think of keywords that describe your photo." 
When a user posts a photo and uses a hashtag, the photo moves to the hashtag pool. It is important to be detailed when it comes to typing a hashtag.
Let's say a restaurant owner posts a picture of the fried rice they created and decides to use the hashtag "#friedrice." The picture appears underneath the fried rice hashtag in the search bar. Since it is the most recent photo, it will be the first photo on the page.
Conveniently, the Instagram hashtag search bar lists the amount of photos that uses the hashtag.  #friedrice (at the time this article was written) has 1.7 million posts. This makes it harder for other users to find the owner's picture if they were to promote it.
A solution for this is to use a more detailed approach. A perfect example is to use "#deliciousfriedrice" which only has 100+ posts. Since this hashtag is more specific, and gets less posts, your photo will be displayed under the hashtag pool longer than a pool with a higher frequency of posts. Resulting in more views.
Another example is to use foods assorted with national holidays like peppermint mocha or pumpkin spice. According to Isabella Anderson, a blog contributor for RevLocal, "Take part in national food holidays, and use relevant trending hashtags, like #nationaldonutday, #pancakeday, etc."
With that being said, you should definitely be creative so it can help the restaurant have a chance to promote and influence the food.
Why should you use the geotag
Not many users know about the geotag in a post; Although it doesn't seem common, many users use the Geotag to check out a location.
The geotag is a noteworthy way of seeing the atmosphere of a place before physically going. It is also a great way to review a business.
According to Alex York, a blogger for Sprout, expresses "People search for businesses, locations and trends all the time on Instagram."
In order to use the geotag, you would have to take a picture of the location, then where you write the captions, you scroll down to "add location". This allows your photo to be added to the geotag in the search bar within a specific place.
One can also use the sticker hashtag in their stories and add the location there.
It is important that restaurant owners and influencers use the geotag, even if it is a picture of their product, so their clients can check it out virtually. 
Evolving your Instagram platform
Whether you want to take a picture of the product, the place or the event, using both the hashtag and geotag is a superior way of promoting awareness for the business. When it comes to hashtags, use uncommon and essential words so the photo is easy to find. For geotags, use the name of the place or product. By doing this, your business social platform will expand to many new users.
Blog written by Anthony Ruiseco
---
1 comment