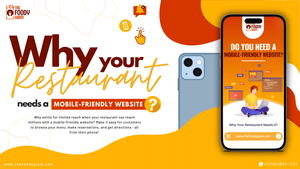 Why Your Restaurant Needs a Mobile-Friendly Website
Did you know that a staggering 88% of adults rely on technology to find restaurant information, such as location and opening hours? Additionally, about 70% of people browse menus online, and 54% order delivery or takeout directly from the restaurant's website. These trends highlight the importance of having a responsive website and an online food ordering platform that load seamlessly on any device, be it a laptop, tablet, desktop, or mobile phone.
Unfortunately, many independent restaurants lack mobile-friendly websites, leading to missed business opportunities and inconveniencing their customers. A recent study discovered that 62% of consumers are less likely to choose a restaurant if they cannot read the menu on a mobile device. This is especially true for smartphone users, particularly Millennials and Gen Zs, who are more inclined to abandon a non-responsive website.
It's also crucial to note that Google updated its search algorithm in April 2015 to rank mobile-friendly sites higher than non-mobile-friendly ones in mobile search results. If your restaurant's website isn't mobile-friendly, it will fall in search engine rankings, potentially driving customers to your competitors.
Is having a mobile-friendly website worth it?
Considering the shift in customer behavior, the answer is a resounding yes. Your restaurant needs a mobile-friendly website with an online food ordering platform to cater to customers who prefer not to use third-party delivery apps.
Check out The Foody Gram. Our online food ordering platform is mobile-friendly and easily integrates into your existing website, allowing customers to place their orders from any device without needing to download and install an app.
Our professional website designers at The Foody Gram can also optimize your web design and improve your SEO to increase your Google ranking and attract more customers to your restaurant. Experience the benefits of our platform today!
---