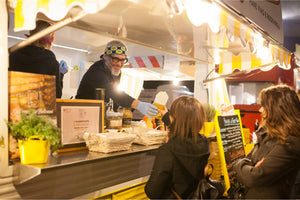 Why Running A Food Truck Is the Best Decision You'll Ever Make
So you're a foodie who is considering or have finally decided it's time to take your love of cooking and crafting your own recipes out into the world. You can open a restaurant, a pop-up shop at your local Farmer's Market, and you can even sell your recipes to larger restaurant chains.
How do you make the right choice when the possibilities are endless? Then there is the golden ticket most entrepreneurs completely gloss over, and that's running your own food truck.
More and more entrepreneurs, like yourselves, are realizing that the circumstances are quite favorable to fulfill your dreams of cooking your favorite meals and sharing them with the public. 
In deciding to run a food truck it is a tangible goal which is both realistic and profitable. Here are some of the top reasons why you should go for it.
Major Growth Prospects
[Image Credit: U.S Chamber of Commerce Foundation]
The food industry has seen a massive shake-up since the pandemic hit over a year ago. Brick and mortar restaurants, who were once the gatekeepers of date night and dining, have found themselves on shaky ground, tackling a slew of setbacks varying from ever- changing federal mandates to fluctuations in consumer spending. 
According to Ibisworld.com, the food truck industry has seen an annual growth rate of 3.9% every year from 2016- 2021, in comparison to the dismal numbers seen in chain restaurants, which has drastically declined by 3% every year from 2016-2021. It is also projected to gross an estimated $1.3bn in the U.S Market by the end of 2021.
The article goes on to state that "this industry has increased faster than the economy overall," which indicates that there are more factors in favor of the success of the food truck, than there are against it.
The Affordability is Worth Your Time and Investment
[Image credit: Gamecare.org.uk]
One major consideration every entrepreneur must make is the overhead cost associated with running a business, especially the initial startup funds you will need to help keep it going.
This is why a food truck could be called a godsend due to it presenting a significantly lower financial risk than opening a brick and mortar restaurant. The cost of starting a food truck usually begins at $50,000, whereas the startup cost of a restaurant can be anywhere from $100,000- $300,000.
The majority of the initial funds for a food truck are applied to one-time purchases, such as the truck itself, equipment and supplies, fuel, inspections and permits. While restaurants must cover similar expenses, there is also the need to acquire and maintain a fulltime staff, the monthly building lease and location improvements- to name a few necessities.
Both options will require the implementation of a sound business plan to be executed over time in order to achieve any form of long-term sustainability and overall success.
However, in comparison to the traditional mercantile, the lower financial risk of starting and operating a food truck is a far more attractive option.
You Have Your Pick of the Most Favorable Locations 
[Image Credit: Food Truck Empire]
We can credit much of the success of the growth of the food truck industry to it's mobility and being able to operate in almost any area in which they can obtain a permit. Food Trucks can expect to see the largest increase in their business by operating in urban areas.
According to ibisworld.com, urban locations are a prime spot for food trucks, as this area is known to have a high population density whose per capita disposable income is higher. It also means an increase in the urban population means a potential increase in a food truck's consumer base.
The Game Changers
[Image Credit: Las Vegas Sun]
Among the many steps it takes to begin operating a food truck is knowing where to start and how. From locating a reliable dealer to get a truck to navigating city codes and regulations that often do not formally recognize food trucks in the same regard as brick and mortar establishments, the process of becoming a future food truck owner can be quite daunting. That's where Ibarra's Mobile Kitchen Solutions comes in.
The southwestern U.S is quickly becoming the food truck hotspot of the nation and Ibarra's plays a huge role in that. They specialize in building custom food trucks specific to your business needs, that not only produces high quality, and efficient mobile kitchens, but goes above and beyond the call of duty to ensure the highest level of service for their customers. 
We, at The Foody Gram, had a chance to sit down with Jonathan Ibarra (pictured above) and Samantha Silcox who gave us the rundown of how Ibarra's Food Truck Builders is fast becoming one of the nation's premier suppliers of food trucks and so much more.
"Opportunity For You"
Ibarra's, located on Rigel Ave right across from Area 15 in Las Vegas, NV,  is founded on the basic yet profound ideology of customer satisfaction that begins with creating business opportunities for anyone from all walks of life. Their services span 4 states in the southwestern U.S., including Nevada, Utah, New Mexico and Arizona. 
Run by Sal Ibarra and his two sons, Jonathan and Salvador Jr., the family once owned their own restaurant, which officially closed it's doors in 2017. This allowed the trio to shift their focus to manufacturing quality food trucks full time. As the demand for food trucks rapidly increased, so did their production of trucks, which went from producing 2 trucks a year, to over 100.
As we previously mentioned anyone hoping to start a food truck business is almost sure to encounter a litany of codes, paperwork and regulations that are usually unclear with confusing jargon which leaves them frustrated and entangled in unnecessary red tape.
The high demand for food trucks also sheds light on a massive issue many of Ibarra's clients face when they first walk through their doors. One of the many spectacular services that Ibarra's offers is handling all of your paperwork for you.
Yes, that is correct. Jonathan's goal for Ibarra's is to help upcoming entrepreneurs hit the ground running by navigating the pitfalls many of them encounter that often dissuade them from pursuing their dreams of running a food truck. 
Ibarra's handles everything from the paperwork that needs to be filed with the city, as well as all of the department inspections that are required for each truck before it leaves the lot. This includes the fire department, health department, in-house inspections, L.P inspections or propane inspections and chassis inspections. Their trucks can be purchased outright, or rented and each comes with a 1, 2 or 3 year lease, which will be under warranty the entire time.
The health department also requires that each food truck be parked at the local commissary where the truck is prepped and cleaned, and inside the commissary is where you prepare all of your food that is to be sold the days you are operating the truck. Is it any surprise to you that Ibarra's has you covered here, too? Located on Fremont street, they own their own commissary which can hold 25- 30 trucks, which is available to their clients are an extremely affordable price.
A common problem many face is finding a quality truck to start their business. "Many trailers are not meant to support kitchen equipment, which will breakdown (likely) in three years," says Jonathan. At Ibarra's, each truck is built from the ground up to your specifications. As we toured the yard with Samantha, we saw the production process from the frame to the finished product.
[Photo: Wade Vandervort- Las Vegas Weekly]
Once your customized truck is complete, Ibarra's does a walk through for your entire team so you know how to operate it as well as your own home-kitchen. If we haven't made it clear yet, they leave no stone unturned and will work to ensure you are fully confident in running your truck before they hand you the keys.
One of Ibarra's strongest qualities is knowing when and how to pivot with the ebb and flow of the industry.
Their knowledge of the business, gained over several decades, has polished their approach to the food truck industry that is shifting the city's policies and mandates on food trucks as a whole, some of which had never been established prior to Ibarra's work.
A clearer line of communication and specific guidelines for food trucks would make a world of difference for those who seek to get into the business and Ibarra's is at the forefront to make it happen, one truck at a time.
Special thanks to Jonathan and Samantha and the Ibarra's family! 
Written by Beatrix Whilde
IBARRA'S MKS

3038 Rigel Ave.

Las Vegas, NV 89102

Call/Txt - (702) 601.3691
​Email:ibarrasrentafoodtruck@gmail.com
---