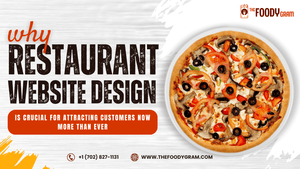 Why Restaurant Website Design is Crucial for Attracting Customers Now More Than Ever
From acquiring new customers to implementing loyalty programs, your restaurant's website is an invaluable tool for success. While it's essential to include basics such as staff and menu details, don't stop there.
Maximize this resource by making it simple for customers to order their favorite dishes without downloading any apps or relying on third-party delivery services.
The Foody Gram team can make this possible by providing all the tools you need to ensure your website entices customers to return and recommend your restaurant to others.
Restaurant Website Design Essentials
In the restaurant industry, creating a lasting impression is crucial. Your website's design should embody your branding and convey the unique personality of your establishment. Furthermore, it must be tailored specifically to attract your target audience.
The Foody Gram can help you achieve this by professionally designing your website or web-based menu. A team of skilled designers will collaborate with you to create a distinctive and visually appealing website you can be proud of. They can develop a web-based menu for your existing site or create your restaurant's website from scratch, with plans starting at $24.95 a month.
Build A Robust Brand And Online Presence
Your restaurant website design design should effectively communicate your brand value to customers, reflecting what they can expect from your business. Without an attractive, user-friendly, and up-to-date website, you risk missing out on numerous opportunities to entice new customers to order from you.
Most people rely on Google to find food options, making a unique and captivating website essential for standing out among competitors. Use your website as a hub for exclusive deals or promotions that encourage customers to click the 'order' button.
Increase Your Online Orders
Partner with The Foody Gram for professional website design services and an online ordering system that adds value to your restaurant business. This platform doesn't charge commission or service fees, allowing you to save money and increase your profits while offering customers a convenient way to order food for pick-up or delivery.
About Our Company:
The Foody Gram was founded by a digital marketing firm in 2020 with the aim of helping restaurants, food trucks, and other eateries reach a wider audience. With The Foody Gram's Online Ordering Software, customers can easily order food, reserve a table, or request takeout assistance. The software contributes to expanding your restaurant's online presence, attracting more customers, and ultimately increasing revenue.
To learn more, call us at (702) 827-1131 or schedule an appointment online via the contact form. We look forward to helping you grow your restaurant business.
---