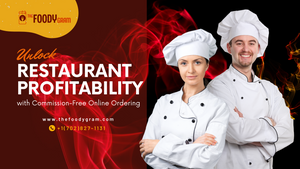 Unlock Restaurant Profitability with Commission-Free Online Ordering
Amid the transforming dining landscape, the restaurant industry has acknowledged the rising significance of off-premise dining—particularly, takeout and delivery services. A notable uptick in online food ordering and delivery demand was observed during the pandemic, driven by social distancing norms. Interestingly, this trend continues to be robust, even as we see a steady reopening of businesses.
As more and more individuals appreciate the convenience and simplicity of online food ordering, this behavioral change is predicted to further solidify in the coming years. Consequently, food businesses are proactively tweaking their operations to meet these evolving customer expectations. Among the most impactful strategies is the adoption of commission-free online ordering.
Employing a commission-free ordering system allows restaurants to bypass the extra costs imposed by third-party delivery services for orders procured via their platforms. This advantageous technology lets restaurants keep a more substantial slice of their revenue, eliminating the need to pay a commission fee for every processed order.
But the benefits of commission-free online ordering extend beyond financial gain. It endows restaurants with more autonomy and flexibility in managing their orders, free from the constraints of third-party delivery policies. Furthermore, commission-free online ordering gives restaurants access to top-tier food ordering software, enabling them to tailor their menus and optimize their order management operations.
Here at The Foody Gram, we understand the potential of commission-free online ordering in amplifying restaurant profits. Our software solution is crafted to be cost-effective and efficient, arming food businesses with the necessary tools to manage their online orders and delivery operations seamlessly.
Curious about how our system can help you optimize your revenue? Contact us today for a free consultation. Visit us at www.thefoodygram.com or reach out at 702.827.1131. The Foody Gram team is committed to your continued business success and growth.
---