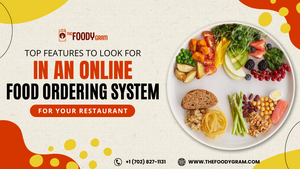 Top Features to Look for in an Online Food Ordering System for Your Restaurant
An online food ordering system can create more opportunities for your restaurant by increasing orders and sales, expanding your reach, and attracting new customers.
The challenge lies in finding a platform that is user-friendly, secure, reliable, and easy to use. Allow us to simplify your search by recommending the top features you should look for in an online ordering system.
Easy integration and unlimited orders
The online ordering system should be easy to integrate with your existing website or social media while maintaining brand consistency. It should not limit the number of orders you can accept and offer additional benefits, such as reservations, pick-up arrangements, and pre-orders.
Commission-free
Unlike third-party food delivery apps that charge a 30 percent commission and service fees per order, a food online ordering system should be commission-free and without hidden costs. The best ones are available for an affordable monthly flat fee, without contracts.
Instant payments
Choose a system that allows you to securely collect payments when customers check out and ensures earnings are deposited directly into your bank account immediately.
User-friendly
The platform should not require your customers to download and install an app. They should be able to order directly from your website using any device, with optimization for mobile users as well.
Order management
A comprehensive online food ordering system should simplify order management and include a tablet and printer for ease of use. This helps streamline your operations and keep track of customers.
Menu builder
Opt for an online food ordering system that allows you to build and customize your menu according to your specifications. Some platforms make it easy to create multiple menus with various combos and offers, ideal for adjusting menus during specific times of the day.
The Foody Gram offers all these features, and you can get started for just $119 per month. Our commission-free ordering software will save you money and help your restaurant stand out.
To learn more about our commission-free online ordering platform and how it can benefit your restaurant, please give us a call at 702-827-1131. Alternatively, you can book a demo of our platform at www.thefoodygram.com. We look forward to helping you grow your restaurant business.
---