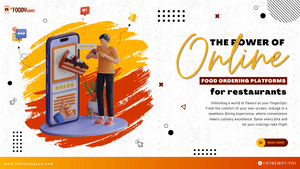 The Power of Online Food Ordering Platforms and Restaurant Website Design
The popularity of online food ordering has skyrocketed, with Forbes predicting that the industry will reach a staggering value of USD 200 billion by 2025. As a result, restaurants are increasingly adopting various online food ordering platforms and technologies, including the latest in restaurant website design, to cater to their customers. But is investing in these platforms and restaurant website design worth it? The answer is a resounding yes, and here's why:
Enhanced Order Accuracy
There's nothing more frustrating than ordering a meal you've been craving, only to receive the wrong dish. For restaurant owners, such mistakes can damage their business reputation, as customer reviews are essential for success in the industry. That's where online food ordering platforms and robust restaurant website design step in. By providing customers with all the necessary details and menus, they can place accurate orders, reducing errors and confusion while increasing satisfaction.
Quicker and More Structured Ordering Process
In addition to minimizing incorrect orders, online ordering platforms streamline and expedite the order placement process. With just a few clicks, customers can select their desired items using a user-friendly food ordering system online, and complete their order swiftly. This convenience encourages customers to return repeatedly since they don't have to wait in long lines or call the restaurant to place their order.
The Foody Gram recognizes the rapidly changing landscape of the restaurant industry and is committed to providing the best solutions for your online food ordering needs, including restaurant website design. We offer a top-tier package that includes a 0% commission rate, a user-friendly online ordering interface, printer and tablet integration, and seamless compatibility with customers' devices. Furthermore, our services encompass SEO and Google optimization, ensuring a boost in your online presence.
If you're looking to expand your business and enhance your online presence through a restaurant website builder, visit our website at www.thefoodygram.com or contact us at 702.827.1131 for a free consultation. We look forward to helping you harness the power of an online food ordering platform, food delivery software, and restaurant website design, elevating your restaurant to new heights! Don't miss out on the benefits of a restaurant online ordering system and commission-free online ordering.
---