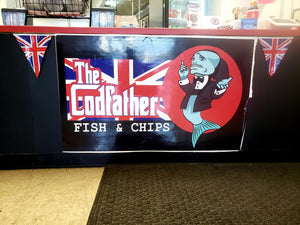 The Codfather Fish and Chips- The Best Chip Shop In Town
With travel restrictions slowly lifting, we'll all be packing our bags to visit our favorite vacation spots and try the delicious food we've been missing but for some, it isn't happening fast enough. Thankfully, we have access to many international eats, right here in Las Vegas.
The U.K hosts some of the most diverse cuisines you've ever had but the heart of traditional, British food is where it's at. Luckily, The Codfather Fish and Chips in Henderson, NV has you covered. 
A local treasure that hosts some of the most popular English dishes, The Codfather, owned and operated by Sheffield native Glynn Bramhall, has captured the hearts and tummies of everyone in the valley from local Las Vegans to British expats, eager for a taste of home.
A Proper Chip Shop
The Codfather, located in the Sunset Ridge Shopping Center, on Green Valley Pkwy and Sunset in Henderson, just celebrated its one year anniversary since their grand opening.
Glynn had always wanted to open a chip shop. The idea came to him while catering for several bands, such as Tori Amos, Carrie Underwood, Drake and Kiss, while they were on tour, first in the U.K, then here, in the U.S. 
Walking into the shop through the classic, red telephone booth which London is known for, you are greeted with a gentle smile from Glynn and a warm, English welcome that you only find in the north (UK). We would never expect anything else, as we all know they do it better!
A Chippy Menu
The beauty of the world opening back up is that customers can freely enjoy a terrific meal in the comfort of their favorite eateries.
Set up for dine-in or takeaway, The Codfather has no shortage of British natives who come in seeking a taste of home, and their menu is full of treats that is sure to satisfy your cravings. One bite of their savory dishes is all it takes and you'll feel like you never left.
Among the many appetizing choices they have are Cod and Chips, Sheffield Fishcakes, Spam Fritters, Clam Chowder, veggie or meat sausages and much more!
An added bonus is that they also offer gluten free and vegan options so you can enjoy a great meal no matter your food preferences.
Here's some of our faves we can't stop raving about.
My personal favorite is the Cod and Chips (first, top), hands down. You cannot enjoy British cuisine without tasting the gloriousness that are fish and chips and Glynn's take on it does not disappoint.
The fish was hot, tender and crispy, and it comes with hand-cut chips and the classic sides of mushy peas, or curry sauce. Both which I highly recommend, but especially with the Battered Sausage (second, top). Made with bratwurst, the flavor literally bursts in your mouth when combined with the curry sauce.
One of their most popular menu items is their chippy burrito (below) made with Haddock, chips, mushy peas and tartare sauce, that's so delicious it has its own name: The Kevin. I dare anyone from the south (UK) to take this one on, but my money is on the lads up north (UK).
Seriously, it's so good that last bite will leave you wanting to take an order to-go.
We were thoroughly delighted with our experience at The Codfather. The hospitality and wonderful conversation, with a great food made it unforgettable.
I could not be more grateful to have an authentic chip shop so close to home and I have a feeling you will be too, so come and taste for yourself!
Special thanks to Glynn and The Codfather family!
2895 N Green Valley Pkwy, Henderson, NV 89014
702-462-2280
Tues- Sat: 11 am- 8 pm
Sun- Mon: Closed
Social:
Written by Beatrix Whilde
(All images credit: Beatrix Whilde)
---