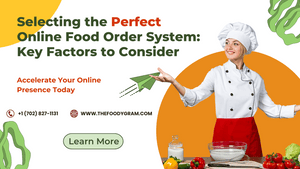 Selecting the Perfect Online Food Order System: Key Factors to Consider
An online food order system can work wonders for your restaurant if it possesses all the features necessary for managing customers and orders, expanding your customer base, and showcasing your menu. Moreover, it can assist you and your team in maintaining accurate order records, ensuring you stay updated on all aspects of your business.
Choosing the right commission-free online ordering software can be challenging, which is why we've compiled a list of essential factors to help you make an informed decision.
Long-term savings with commission-free online ordering
Third-party online ordering apps often impose high fees and commissions on restaurants. By using a commission-free online ordering software solution, you can save a significant amount of money.
The branded online ordering software at The Foody Gram is easy to integrate into your existing website or social media platform, allowing you to maximize your current traffic while attracting new customers. The system securely collects payments directly from the source.
User-friendly experience
A top-notch food ordering system online should be easy to use and accessible on any device. The Foody Gram, for instance, does not require customers to download an app to order from you. It enables you to retain more customers by utilizing your own database and implementing marketing strategies to increase repeat business. Use it to offer personalized coupon codes and send emails or text messages to incentivize customers to return, ultimately boosting sales for your online food order system.
Efficient order management
It's crucial to choose a commission-free online ordering platform that simplifies order management. The Foody Gram package includes a tablet and printer to help you stay organized. You can also customize our software to match your brand and manage your customers' online interactions with your restaurant. The Foody Gram offers reservation, dine-in, and pre-order capabilities, eliminating the need to rely on other platforms.
Value-adding options for your website
The Foody Gram also specializes in search engine and website optimization to enhance your online presence and reach. If you don't have a website yet or want to improve your existing one, inquire about our website design service. We can help you stand out with an attractive web-based menu or restaurant website.
To learn more about The Foody Gram and how it can benefit your restaurant, visit thefoodygram.com or call us at (702) 827-1131 to schedule a demo today.
---