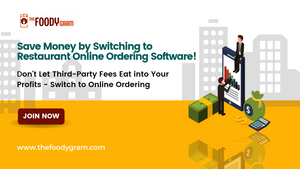 Save Money by Switching to Restaurant Online Ordering Software
The COVID-19 pandemic changed our world in a matter of days, forcing us to shelter in place and social distance. Businesses were quickly shut down, and one of the hardest hit industries were restaurants.
Restaurant owners were challenged with new obstacles to keep their businesses open. Many restaurants turned to new online ordering systems to satisfy hungry customers and keep their business running.
By offering curbside pick up and deliveries, restaurants were able to satisfy customer cravings while keeping loved ones safe.
To meet customer demands, many restaurants utilized third-party solutions such as Uber Eats and DoorDash to quickly set up online functionalities. However, while these providers offer great services, they also cost a lot of money.
How much money are you wasting with third parties?
Well-known third-party food ordering and delivery platforms make money by taking anywhere from 20 to 30 percent in commission fees from each restaurant order placed on their platform. This can be problematic for smaller restaurants, leaving little profits afterwards.
To mitigate these fees, many restaurants increase their menu prices. However, by doing so, your restaurant loses even more money daily.
Online ordering restaurant software allows you to hold out on your own without worrying about commission fees. Some solutions offer a range of annual and monthly fees, so you can find something that suits your budget and needs.
Commission fees as high as 30% don't leave much left for business owners afterwards. Other issues, such as delayed payments and increased menu prices, create more headaches for owners than they are worth.
The good news is that you now have more options, such as using online ordering software for restaurants. This may be the best way to provide online delivery without increasing your prices or paying exorbitant fees.
Some of the best online ordering solutions support a range of payment options, which you can integrate with their secure payment gateway. So, delayed payments will be the least of your worries.
Switching to an online ordering software for restaurants may be better for your business. Newer platforms are customizable, so you can make them your own with the visuals you want to show. This way, you can also build brand awareness while reaching more customers. Use the platform to receive pick-up orders, table reservations, dine-ins, and deliveries. You may set your own delivery fees and use your own delivery drivers, too.
Why do restaurants use third parties?
Most third-party food ordering and delivery apps claim to establish a partnership with restaurants that will provide online exposure, more customers, and increased online orders. However, restaurants cannot send food promos or get in touch with customers without going through the platform. The third party becomes the middleman that gets the most money out of every order.
Getting Started with The Foody Gram
---