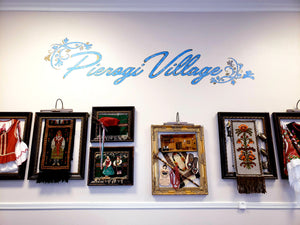 Pierogi Village- The Eastern European Delight of Las Vegas
Las Vegas is quickly gaining a reputation for hosting some of the most delectable eats from all around the world and we, at The Foody Gram, were lucky enough to dine in one of the latest editions to this rock star list of Vegas restaurants- Pierogi Village.
Nestled comfortably on the edge of Summerlin and Sun City, on Lake Mead and Rampart, Pierogi Village has quickly become a community favorite. Pierogis are an essential dish in Eastern European culture, and it is here that the owner and founder, Margaret Grudzinski, a native of Poland, has established a unique, yet traditional combination of Poland's most popular dishes.
Pierogi Village introduces a novel and delectable new cuisine to Las Vegas locals, while providing its fellow Eastern European comrades with a taste of home, sans the Czarnina so don't worry your pet ducks are safe! 
There's No Place Like Home
Pierogi Village first opened as a pop up shop in the swap meet in 2016, then transitioned to a brick and mortar location in November of 2019. When customers walk in they are greeted by swathes of colorful patterns and traditional Polish décor ranging from matryoshka dolls, tapestries and customary, Łowicz folk costumes. You can order at the counter to-go or you also have the option to dine-in and have your food brought to your table.
Margaret (pictured above, center) was inspired to open her restaurant upon realizing there were very few options available to eat traditional Polish food. Simply put, pierogis are dumplings filled with your favorite treats which can range from duck, sauerkraut, to potato and cheese and sausage, or spinach and feta cheese. 
Their menu offers a variety of pierogis, soups, desserts and what are known as Babcia dishes. Babcia, which means 'grandmother' in Polish, refers to the dishes commonly found at your grandmother's house in Poland.
To name a few, these include Polish sausages, Bigos or Hunter's Stew, Borscht and Wiener Schnitzel which is traditionally made with veal but here they use pork. Since nothing beats your grandmother's cooking, here's a review of some of our favorite entrees we had the opportunity to taste. 
[Sauerkraut and Pierogi Sample]
Pictured above is the stuffed cabbage and the Pierogi sampler, which includes six pierogis with your choice of three different fillings. We choose potato and cheese, potato and onion, and sauerkraut and mushroom.
The dough is similar to that of ravioli, but with a much lighter taste and texture, while the potatoes were warm, soft and full of flavor. The onion topping adds an extra kick to the taste without overwhelming your palate and leaving you immensely satisfied!
The stuffed cabbage, made with beef, rice and various seasonings, are a must when you visit Pierogi Village. They are topped with dill and the homemade tomato sauce is the perfect compliment to round it off with.
The Customer is Always Right
[Pictured: Margaret, left, Diana, right. Image Credit: Beatrix Whilde]
Any reviews you find about Pierogi Village will all rave about the service and the food. Margaret introduced Diana to me, (pictured above, right) as one of her best customers. "You have to try the stuffed cabbage with the tomato sauce, mashed potatoes and the cucumber salad," she gushes. Who am I challenge her sage advice?
[Image credit: Beatrix Whilde]
Diana and I chatted for a short time and she offered me a taste of her Mizeria (pictured above), which is the cucumber cream salad that is made from cucumbers, sour cream, sugar and a pinch of Dill.
Had it not been for this absolute angel I never would have known how incredible this dish is (since she nabbed the last bowl fair and square). The tang of the sour cream and the sweetness from the sugar blend well together to make for one tasty treat and is perfect meal to enjoy in the summer. 
Overall, our dining experience went above and beyond our expectations, stemming from excellent service and a fantastic menu. We highly recommend you come check them out! 
Special thanks to Margaret, whose driven and pioneering spirit captures the hearts and tummies of all her customers, one pierogi at a time.
Pierogi Village
8540 W Lake Mead Blvd, Las Vegas, NV 89129
Open:
Mon: 12- 6
Tues: Closed
Wed- Fri: 12- 6
Sat: 12- 7
Sun: 12- 5
Social:
Instagram- @margaretgrudzinski- Pierogi Village
Written by Beatrix Whilde
---
1 comment