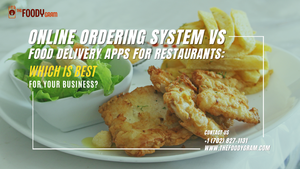 Online Ordering System vs. Food Delivery Apps for Restaurants: Which is Best for Your Business?
As more customers rely on their smartphones for various tasks, including finding places to eat and ordering food for delivery, you may consider either setting up an online ordering system on your website or social media or using food delivery apps like DoorDash and Uber Eats.
But which option is best for your business? Let's compare the two.
Food delivery apps
At first glance, food delivery apps might seem more convenient because they are readily available, allowing you to sign up and get started immediately if you meet the requirements. Customers simply need to download and install the app and use it to find a restaurant.
However, food delivery apps have significant drawbacks, particularly their substantial commission and service fees. You may also have to wait a while before receiving your earnings in your bank account. Moreover, unless customers specifically search for your restaurant, you'll likely compete with similar establishments or those near the customer's location.
There are other downsides to using food delivery apps. Some may limit orders and impose unreasonable contracts and service agreements. Additionally, since you rely on third-party drivers, customers may blame your restaurant for poor delivery service.
Restaurant online ordering system
Setting up an online ordering system may appear complicated initially. However, you can opt for user-friendly solutions that integrate seamlessly with your existing website or social media page. These systems don't require your customers to download and install an app, allowing them to order directly from your website. Look no further than The Foody Gram to get started.
Experience the best online ordering system today.
Our commission-free restaurant online ordering system will save you money, help you stand out from the competition, and attract more customers to your business. If you don't have a website, we'll help you create one. Sign up for our service today to learn more. Our solutions start at just $95 per month. Call The Foody Gram at (702) 827-1131 to book an appointment or visit us at www.thefoodygram.com to learn more.
---