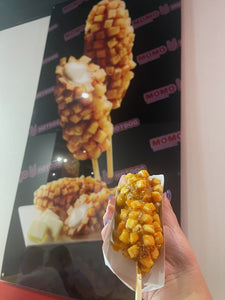 New Korean Hot Dog Restaurant Sets Up Online Ordering System
More people are opting to stay at home for their health and safety, but not everyone has the time to cook a meal for themselves and their families. Enter: online food ordering systems—a game-changer for customers and restaurants alike.
Advantages of Online Food Ordering Systems for Your Restaurant
Over the last five years, the online food ordering industry has seen significant growth and is expected to increase to over $220 billion by 2025. Nearly every restaurant has some form of online ordering today, from the world's biggest fast-food chains to homegrown eateries like Momo Korean Hotdog in Las Vegas.
What makes online food ordering so special? For customers, it's convenient, fast, and easy to use. For restaurateurs and food service providers, food ordering solutions like The Foody Gram offer several benefits like:
Increasing Your Sales
The most significant advantage of offering online food ordering is increased profit. Online orders provide 30% more revenue to restaurants owners in comparison to in-person and phone orders because its easy to add a ton of items to your cart! Online ordering technology also makes it easy to upsell customers - "Would you like to add fries and a drink to that?".
Online ordering systems also allow you to grow your fanbase and retain existing customers. A study by the Interactive Advertising Bureau found that 69% of customers use mobile devices to order food, and 37% use food review websites to look for their favorite restaurants. With a streamlined online ordering system that's easily accessible online, you can grow your customer base and attract up to 90% of potential clients.
Easy To Use
Unless you run a food business while taking coding classes on the side, building your own online food ordering system is quite the challenge. Hiring a website developer could be another option, but it's costly and challenging to sustain.
Luckily, you have an affordable alternative: The Foody Gram. This service can help you set up an online ordering system in no time. There are only three steps to complete your setup:
Send your menu to The Foody Gram.
Approve your online ordering page.
Start taking orders.
Do you want to start delivering food to your customers? Are you planning to offer pre-order and reservation services? The Foody Gram can help you do all of this and more!
With no long-term contracts, flat fee billing of $95 a month and 0% commission forever, The Foody Gram offers online ordering you can not pass up.
Book a free demo by filling out the form below and get a FREE domain name.
---