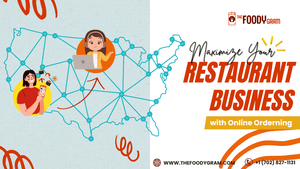 Maximize Your Restaurant Business with Online Ordering Restaurant Software
In the contemporary food industry landscape, online ordering and delivery account for a significant 40% of total restaurant sales. The growth of the online food ordering market is staggering, with a rate that's three times faster than dine-in. This trend is not expected to decelerate anytime soon. Thus, restaurants need to realign their operations to meet the growing demand for online delivery and takeaway services.
A key solution that can facilitate efficient order management and cut down costs linked to manual order processing is the utilization of online ordering restaurant software.
Reduce Order Abandonment
Deploying online ordering restaurant software can substantially decrease the likelihood of customers abandoning their orders due to protracted checkout procedures or technical issues.
Such software solutions offer a streamlined, user-friendly platform, thereby enhancing the customer experience. This leads to a decrease in abandoned orders and an increase in overall customer satisfaction.
Cut Down Costs
By adopting online ordering restaurant software, restaurants can significantly cut down costs linked to manual order processing, including labor and printing costs.
They also stand to benefit from reduced overhead costs, as there is no need to invest in additional infrastructure or servers to handle large order volumes.
Boost Operational Efficiency
Online ordering restaurant software can dramatically enhance the efficiency of order processing. It does this by automating routine tasks such as order confirmation, payment processing, and delivery scheduling. Additionally, it provides a real-time order tracking platform for customers, ensuring they are updated about when their food will be ready for pickup or delivery. This feature eliminates unnecessary follow-up calls and ensures customer service representatives and delivery drivers stay updated on any changes or updates.
At The Foody Gram, we are proud to offer a commission-free online ordering restaurant software that delivers all these benefits and more. Our software solution is designed to enhance your business efficiency, reduce your costs, and elevate the customer experience. Register with us today to experience the convenience and simplicity of our online ordering system.
For a free consultation, visit us at www.thefoodygram.com or call us at 702.827.1131. We look forward to helping you streamline and optimize your restaurant business.
---