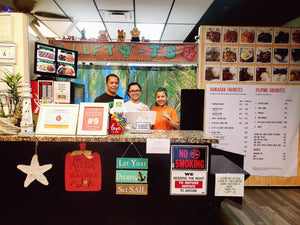 Lefty- J's Island Favorites- A Spotlight on the 9th Island's Hidden Gem
It's no secret that Hawaiian cuisine is one of the most outstanding you can ever try. A unique blend of Hawaiian, Filipino, Korean, Chinese, Japanese, Portuguese and many other traditional foods contribute to what we have come to know and love as local food. 
Las Vegas is one of the few lucky spots on the map to offer mainlanders a chance to taste various local Hawaiian dishes and we had the opportunity to review one of, if not the best spot in town- Lefty- J's Island Favorites.
A family owned and operated business, with Chef Lefty and his wife, J, at the helm, along with their daughter, Juhl, Lefty J's offers a variety of Hawaiian and Filipino entrees that will leave you bellies bursting with delicious food and your hearts filled with aloha.
"Aloha Spoken Here"
 [Image credit: Beatrix Whilde/ Foody Gram]
Located on the eastside of town, in the Twain Swenson Plaza, August 2021 will mark Lefty- J's three year anniversary and our community could not be more proud. 
From the moment you walk through the door, the aroma of great food acts as a pleasant assault on your senses, followed by the smiling faces of J and Juhl as you enter. 
Honestly, the food and warm welcome feels very much like you have been invited over for a homecooked meal, and the dining experience enhances that fact.
A Unique Take on Traditional Island Food
[Image credit: Beatrix Whilde/ Foody Gram]
From 2001, Chef Lefty, a native of Hawaii, managed the culinary team as room chef in several high- profile restaurants on the Las Vegas Strip, including Bally's, Paris, The Stratosphere and the Hard Rock Hotel.
Combined with his love of Hawaiian and Filipino cooking and years of professional experience in the kitchen, Lefty- J's was established in 2018 with the aim of introducing Hawaiian cuisine their local customers in the Vegas valley. 
They offer a variety of Hawaiian food and Filipino food while staying true to the traditional dishes and flavors that make it so good to eat. 
Get Plenty Grinds, Sooo Ono...
[Image credit: Beatrix Whilde/ Foody Gram]
We had the opportunity to try several menu items, among which included the 5 Star Sampler that includes Lefty-J's famous Crispy Fried Chicken, Kalbi Beef Short Ribs, Teriyaki Beef, Chicken Katsu and BBQ Chicken, served with 3 scoops of rice topped with optional Furikake seasoning, katsu sauce and macaroni salad (bottom center).
Their proteins are marinated for at least 24 hrs which makes the meat incredibly tender, juicy and bursting with flavors on the first bite. 
My personal favorite, their Crispy Fried Chicken, is Mochiko style but a bit crispier. The Chicken Katsu, made with chicken breast, was delicious, hot, crispy and tender which pairs amazingly with the mac salad.
[Image credit: Beatrix Whilde/ Foody Gram]
A staple of Filipino cuisine, the Pancit, is made in the traditional style with Bihon noodles, veggies and pork but you can substitute the pork with chicken. This was my first time trying the dish and I am hooked. I highly recommend sprinkling a little lemon juice on top, because, omg so good.
[Image credit: Beatrix Whilde/ Foody Gram]
Is your mouth watering yet, because mine still is. The Teriyaki Beef and Kalbi Beef Ribs were incredible! Each dish is packed with rich and savory flavors that  compliment each other and leave your mouth watering. 
The flavor doesn't just sit on top of the meat but it penetrates all the way through which will have your taste buds singing. Yes, I have been back for seconds. No, I am not ashamed and I will definitely be back for thirds.
The owners are so wonderful and they work to ensure your dining experience is satisfying in every way.
I had mayjah kanak attack right after my last bite and I topped it off with some Hawaiian Sun. Don't be surprised if you enter into a food coma when you pau eat (all done), but it's totally worth it. 
Much mahalo to Chef Lefty, J and Juhl for the amazing experience! 
Lefty- J's Island Favorites
860 E Twain Ave Ste. 102, Las Vegas, NV 89169
Mon-Tues-Thurs-Fri-Sat- 10 am- 7 pm
Wed- 10 am- 5 pm
Sunday- Closed
Social:
Written by Beatrix Whilde
[Image credit: Beatrix Whilde/ Foody Gram]
---