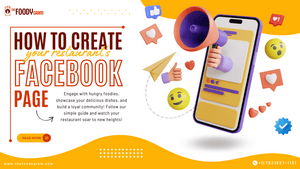 How To Create Your Restaurant's Facebook Business Page
In today's digital era, having an online presence for your restaurant or food truck business is crucial. One of the best ways to start is by creating a Facebook Business Page.
Not only does this provide a platform for your customers to interact with you, but it also allows you to direct them to your online ordering website powered by The Foody Gram. Here's a step-by-step guide to get you started:
Step 1: Set Up a Facebook Account
If you don't already have one, head over to www.facebook.com and create a personal Facebook account. This is the first step as Facebook requires all business pages to be linked to a personal account.

Step 2: Create a Facebook Business Page
Once logged in, click on the drop-down menu in the upper right-hand corner and select "Create Page".
Step 3: Choose Your Category
You'll be prompted to choose a category for your page. Select "Business or Brand" and then click "Get Started".
Step 4: Provide Business Information
Next, fill in the following details:
Page Name: This should be your restaurant or food truck's name.
Category: Type "Restaurant" or "Food Truck" and select the appropriate category from the drop-down menu.
Address: Include your business location.
Phone Number: Provide your business contact number (optional).
Website: Include your restaurant's website, especially if you have an online ordering system powered by The Foody Gram. This will drive traffic directly to your site.
Step 5: Upload Profile and Cover Photos
Add a high-quality profile picture (perhaps your logo or a picture of your restaurant or food truck) and a captivating cover photo (perhaps a delicious dish or your team in action).
Step 6: Create a Unique Username
Your username will form the custom URL for your Facebook page and should be easy to remember. Consider using your business name.
Step 7: Fill the About Section
The "About" section is an opportunity to tell people about your restaurant. You can include a brief description of your business, hours of operation, and your menu.
Step 8: Make Your First Post
Now that your page is set up, make your first post. It could be a welcome message, a picture of a signature dish, or a special promotion.
Step 9: Invite People to Like Your Page
You can invite your friends on Facebook to like your page. This is a good way to start gaining followers.
Step 10: Add a Call-to-Action Button
Include a call-to-action button at the top of your page. Options could be "Book Now", "Order Now", or "Contact Us", which can link directly to your online ordering system.
Remember, having a Facebook Business Page for your restaurant is like having a living, breathing entity. It needs to be nurtured and updated regularly with engaging content.
At The Foody Gram, we understand the value of an online presence and provide an online food ordering system that is user-friendly, customizable, and commission-free. Our system easily integrates with your Facebook Business Page, providing a seamless ordering experience for your customers.
Take your restaurant business to the next level. Visit our website at www.thefoodygram.com or call us at 702.827.1131 for a free consultation. Let The Foody Gram help you harness the power of online ordering and social media today!
Don't forget to monitor your page engagement with Facebook Insights and adjust your strategy based on the data you gather. With time and dedication, you'll witness the tremendous impact on customer engagement, brand awareness, and your bottom line!
---