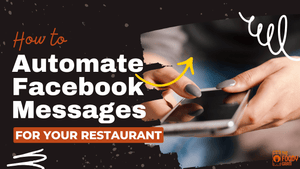 How Restauranteurs Set Up Auto Reply in Facebook Messenger to Save Time and Get Their Menus to More Customers
As a busy restauranter, you know how valuable time can be. With your time consumed by your restaurant's day-to-day operations, how often do you have the time to look at your social media pages?
If your answer was "not a lot" you are not alone. While that may be the case, you could be setting yourself up for the loss of business by not being able to respond to your social media messages in a timely manner.
Customers looking for immediate answers to simple questions will easily get turned off to your restaurant if they don't have easy access to the information they need and are more likely to go to a competitor if they can't get what they want quickly.
Having an easy to use, easy to access website may not be enough.
Luckily, there is an easy tool to use that will allow you to be more attentive to customers reaching out on social media without consuming a ton of your time so that you can put your attention on your restaurant business.
How Facebook Messaging Automations Work
You can create canned responses to commonly asked questions by setting up Facebook messaging automation.
When someone asks one of your commonly asked questions in a message, set up an automated response to immediately answer. Outside of the initial setup, there is no additional work for you, and your customers get the information they are asking for quickly.
Why Facebook Messaging Automations Work
Facebook messaging automation is a great tool for answering commonly asked questions about your restaurant business with expedience, will allow you to reach more customers, and drive more traffic to your website.
By setting up this part of your restaurant business to be automated, you can make sure that potential customers are attended to, that your voice is incorporated into your social media accounts without having to manually send messages, and that you have more time to spend attending to other parts of your business.
It's a simple five-step process that can turn your customer experience from frustrating to fantastic and allows you to be more hands-off from your social media messaging.
*Please note that this only works on restaurant business pages, not personal accounts. *
How to Create Facebook Messaging Automations for Frequently Asked Questions:
Navigate to your Meta Business Suite and click the inbox icon on the left-hand side.
Click the automation widget in the upper right-hand corner
Select "Frequently Asked Questions".
Add a question like "Can I see a menu?" in the question field.
In the message field, type your response. (Pro Tip: Make sure you link your website so customers can easily navigate there and view your entire menu.)
We've outlined the steps for simplifying your social media messaging to be more hands-off using automation here.
You need to be able to automate your business in order to gain valuable time. Instead of spending money to hire someone to respond to your messages as they come in, trust an online food ordering system that provides services like Google optimization, SEO, and web design to help you take a more hands-off and automated approach to your social media.
The Foody Gram is an all-in-one website and online food-ordering solution for restaurants. Created to help restaurants reach more customers, increase their online presence, and increase revenue. To set up your all-in-one website and online ordering system for restaurants today, call The Foody Gram directly at +877-762-1512.
---