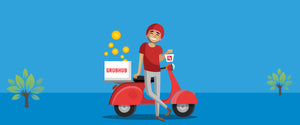 How Online Delivery Platforms Cost Restaurants A Fortune
There was a time when food delivery services were a blessing to the restaurant industry and its consumers, alike. Being able to order from a wide selection of restaurants from a single location was smart, innovative and saved us a ton of time.
One of the best things about these new services was that they also allowed regular Joe's to earn some extra cash while delivering food for these companies. For restaurants, it was a great way to reach more customers and increase sales.
Recently, what was once a boon to the industry has now become a burden for both the restaurateur and their customers, with the cost of using these platforms beginning to massively outweigh the benefits.
Read on to find out how these delivery services have gone from boon to burden on restaurant and food truck owners.
Marketing and Exposure: Is It Worth It?
  [Image credit: Los Angeles Times]
When a restaurant signs up to use an online delivery platform they are given a pricing package that explains the benefits they will receive from using the service, the amount they pay to the company for getting on the app and utilizing their delivery service.
A breakdown of the actual cost of utilizing a third party online ordering platform is astounding, and for small businesses with lower profit margins it can cause a significant financial strain.
The big three we've included in this comparison is Uber Eats, Door Dash and Grubhub. According to their website, Grubhub charges a 20% marketing fee, a 10% delivery fee and a processing fee that is calculated as ($0.30 + 3.05%).
However, this deposit summary from a Chicago-based food truck owner, Chicago Pizza Boss, gives the public shocking insight into just how much money Grubhub can make from a single business.
[Image Credit: Chicago Pizza Boss]
One of the most attractive benefits of using a popular, third-party delivery platform is the additional marketing your restaurant receives from the millions of hungry patrons searching for something good to eat.
Let's face it, any business is more visible to a potential customer when they're scrolling on their phone than out on the street. Sounds like a great deal, right? Well, yes, it absolutely should be until these delivery services begin charging the restaurant.
Uber Eats and Door Dash share similar fee schedules, as well, with Uber Eats charging a one-time $350 activation fee, a 30% commission fee and processing fee.
Any restaurateur, large or small, who is considering utilizing one of these delivery platforms will have to factor in the added costs that often leave them in the red, rather than making an actual profit.
These fees are calculated along with their monthly overhead, which can be overwhelming even for a lucrative restaurant.
Public Pushback and Legislative Change
[Image Credit: Los Angeles Times]
The fees the food delivery services charge restaurants has been a major source of controversy but they have also stirred the ire of its patrons who use the service to order their food.
Consumer spending has come to rely heavily on the convenience of ordering online and these apps are cashing in big time.
We naturally expect to pay a fee for the convenience of ordering from food delivery apps. However, companies such as Uber Eats and Door Dash have marked up the cost for their services from 17% to as high as 40% from the total meal cost that the customer would have paid had they ordered directly from the restaurant, according to Tech Crunch.
[Image Credit: Tech Crunch]
The article goes on to clarify what the average consumer would expect to pay for a $50 meal when ordering from one of these apps. If you were to directly order from a restaurant the total would come to about $59 as opposed to the same meal ordered from Postmates, which would total somewhere around $71.
Public outcry over these insane fees has called for a push to pass legislation that puts a cap on the fees these companies can charge a restaurant for being on the app.
As of April 20, 2021, Senate Bill 320 passed, which will put a limit to how much these apps are allowed to charge restaurants for commission. Many are skeptical that these digital giants will take this setback lying down.
While this is definitely a step in the right direction, there is much work to be done to establish firm limits that prevent third-party ordering services from preying on smaller restaurants.
At The Foody Gram, our online ordering solution can save you thousands of dollars. Up and running in less than 5 business days, our solution is commission free and helps you put more money in your own pockets, rather than Silicon Valley's.
If youre interested in saving thousands, you can email us at anthony@thefoodygram.com or call us at (702)- 827-1131 for a free consultation.
Written by Beatrix Whilde
---