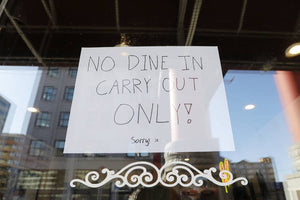 How COVID-19's Impact Is Changing the Restaurant Industry (and Why It's Not All Bad News!)
Business Insider called it the "Restaurant Apocalypse."
The impact of COVID-19 upon the restaurant industry has been nothing short of catastrophic. Lockdowns have forced thriving restaurants to suddenly close their doors completely or only allow takeout and delivery options.
According to the National Restaurant Association, in a survey of over 4,000 restaurant owners and operators, 11% were likely to close permanently within a month. That was at the end of March.
As we learn more about Coronavirus, restaurant and food truck owners have shown how resilient and determined they are by finding innovative ways to keep their restaurant dreams alive. In this new era of "sink or swim", it's important to adapt to these uncertain times and be as fluid as possible to stay afloat.
What Restaurants Are Doing to Succeed During A Global Pandemic
Despite the many challenges COVID-19 has thrown your way, these 3 tips will help your restaurant keep bringing in revenue, even during uncertain times.
1. Use a web based menu
Research shows people love to search online for their next bite. Not only do they search online, 60% of these respondents found images to be more informative than written descriptions.
Instead of telling them stuff, show them stuff! Pictures really are worth 1000 words.
Additionally, web based menus are SEO optimized. This means when a customer searches for a specific cuisine or dish near them, a search engine will be able to provide your menu.
2. Be informative
Along with the use of web based menus, you can take the opportunity to keep your new and old customers up to date regarding any changes to your hours of operation or menu specials. It's simple to do and allows those you want to connect with to feel satisfied even with this small innovation.
3. Make health and safety a huge priority
Not only are web based menus a great option to reach more customers, it's also useful for in person dining.
The more customers who touch your menu, the greater the chance of COVID-19 spreading in your establishment. Replace old paper and plastic menus for digital one's customers can view in the palm of their own device.  Less exchanges of items, leads to a greater chance of keeping your customers and staff safe.
What the Future Holds for Restaurants
We are a society of Foodies, we all love to devour a delicious meal. Make sure you're visible online with a web based menu that can connect your restaurant to hungry customers. Then impress them with your mouth watering food while you roll with the punches. The changes that restaurants are facing today are likely to last long after 2020, but if you can adapt with them, you'll come out of it just fine.
---