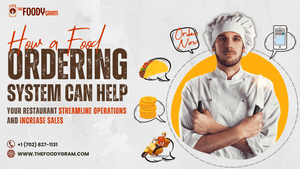 How a Food Ordering System Can Help Your Restaurant Streamline Operations and Increase Sales
Third-party ordering and delivery apps might seem convenient at first, but high commission fees, contracts, limitations, and complex platforms could hinder your operations and earnings. Switching to a comprehensive online food ordering system can better streamline your operations and boost your sales. Here's how it can help.
Bid farewell to commission fees.
Third-party ordering and food delivery apps can take up to 30 percent of your revenue, making it difficult for smaller restaurants and food trucks to increase their profits. An online ordering restaurant software doesn't charge any commission or service fees. It enables you to accept orders directly from your website without a middleman, allowing you to save money and maximize your earnings.
Mobile-friendly Interface
Customers can easily order from your restaurant using smartphones, laptops, tablets, or desktop computers. The platform is optimized for user-friendly navigation on every device.
No app Required
Integrate the platform across your online presence. Your customers won't need to download and install an app to place orders.
All-in-one solution
A versatile online food ordering solution streamlines the process of making reservations, organizing food deliveries, or arranging pick-ups. This way, you won't need additional services to offer these perks.
Encourage Customer Accounts
Urge customers to create an account to track their orders and reorder with ease. The platform allows you to monitor their engagement while offering opportunities to provide coupons, special discounts, and other incentives to repeat customers.
Customize Your Menu
Design and build your menu according to your exact specifications. A menu builder is available for creating multiple menus with various combinations and offers to attract your target customers.
All the essentials included
Sign up for The Foody Gram and discover how a commission-free food ordering system works. Our service includes a restaurant website and search engine optimization. We provide everything you need, such as a tablet, printer, and 24/7 support. Our platform features reservation, pre-order, dine-in capabilities, and direct deposit integration, starting at $95 a month. Sign up today to learn more!
---