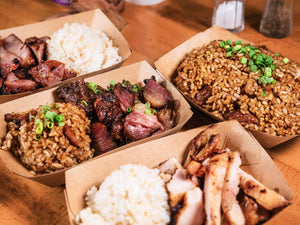 Hawaii Restaurants Use Online Restaurant Ordering System To Save Thousands
The Aloha state has always been known as a cultural melting pot. Once one of the largest exporters of sugar to the United States, Hawaii met the growing demand by employing its diverse population of immigrants. Filipinos, Chinese, Japanese, Caucasians, and Native Hawaiians bonded together in the fields and helps establish Hawaii into what it is today.
Fast forward a couple of hundred years and the result is some of the best authentic and fusion cuisines in the world.
Technological advancements in the restaurant industry have made it easier than ever for customers to order their favorite foods and have them delivered directly to their doors. What customers don't realize is these third-party apps are costing local businesses thousands of dollars in commission fees.
 Uber Eats, Grubhub, and Doordash to name a few often charge local restaurants 20-30% in commission fees. These high fees often leave owners with little to show once it's all said and done.
Few restaurant owners have found a way to cut out the middleman and save thousands of dollars. Guava Smoked, Serg's Mexican Kitchen, and J&B Pizza are a few restaurants that have invested in their own solution allowing customers to order directly from them. The Foody Gram, owned and operated by Hawaii natives, has developed an online restaurant ordering system designed with restaurant owners in mind.
Saving Restaurant Owners Thousands Of Dollars
Many restaurant owners gravitate to the platforms they know – Uber, Doordash, and Grubhub. The large number of consumers that use those platforms tend to make it worthwhile. However, the large fees these platforms charge cut deep into profits. By investing in a custom online food ordering software, owners can manage their orders and deliveries for a flat fee. Knowing exactly how much they will pay each month.
90% of consumers research a restaurant online before deciding where to eat. When a consumer looks for your restaurant online, what do they find? Our strategy is proven to get your custom online restaurant ordering system in front of those who search for you. Instantly saving you 30% and increasing your profit margin.
Build A Database Of Your Customers
Third-party solutions do not let restaurant owners know key information about their customers. This valuable asset allows you to send promotional coupons and offers to increase the number of return customers.
With custom restaurant ordering software, you own your restaurant's customer database. Email addresses, phone numbers, and total sales are a few data points you will use to increase your sales. Not to mention all while saving 30% in fees!
A New Way Of Doing Business
Investing in your restaurant's online ordering system is a sustainable method of cutting high fees and increasing your sales. With a long-term goal of managing everything in-house, you will be able to cut the middle man, offer your customers a better experience, and grow for the future.  
Call The Foody Gram today to learn how much money you can save and what makes this Hawaii-run business different from the other guys. Our $95 fixed monthly plan has saved Hawaii restaurants over five figures in the first six months! Contact us at 702-827-1131 or visit www.TheFoodyGram.com to learn more.
---