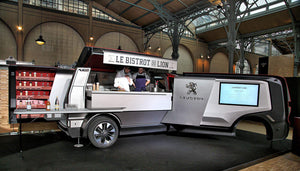 Gourmet Meals On Wheels
A large majority of food lovers enjoy eating gourmet food, but they also like stopping at food trucks. Although these two delicious food categories are almost one and the same, there are very little gourmet style food trucks.
Before reading about these, it is important to know what classifies as gourmet since it has multiple meanings for different people.
Many people, including I, consider gourmet as fine or luxury dining that serves well decorated meals at a more expensive or formal business. For others, gourmet means a food connoisseur or a "foodie."
Although fine dining food trucks are often rare, they have numerous advantages for both the owner and the clients.
Great Food For A Great Price
Food trucks are not only a convenient way for customers to grab their food while also on the go, but it gives them insight on new, delicious and uncommon dishes.
According to a writer for Realiable Water, "Food trucks often feature global and ethnic options appreciated for their authenticity, speed, and price."
Since food trucks are popular due to their high demand on unique dishes, imagine blending gourmet food with it.
Depending on the cultural background of the establishment, gourmet stylized food trucks can have a wide variety of appealing foods: from seafood like sushi or smoked salmon to delicious desserts like èclaires.
This will also benefit clients who are looking to eat fancier foods but are on a budget because they can get all these foods for a great price; Food Truckr a online food website, states 
"Cheap and gourmet don't typically go together. To get gourmet food, you typically have to spend quite a bit of money, but cheap and gourmet is very much a thing in the food truck industry in the sense that you can get a gourmet meal for a lower-than-normal price."
Due to the food truck not being a restaurant, the prices, even for gourmet food, would be at a reasonable price because they tend to be more cost effective. Besides foods, if the luxurious food truck can get a liquor license, then drinks prepared at the establishment would be as delicious as ones at a bar. 
Captivating Clients With A Beautiful Establishment
Now more than ever, your restaurants ambience has become increasingly important. Today's consumers are now seeking a new type of dining experience called Experiential Dining.
Experiential Dining is a type of dining that caters above just food and good hospitality. It offers a unique atmosphere allowing customers to receive a sensation they cannot taste.
Noah Kaufman, a writer for Food & Wine, informs "We would be willing to bet quite a bit of money you've never seen one like Peugeot's Le Bistro du Lion . . . . a DJ booth and enormous flat-screen TV that will stream video of the chefs as they cook."
Although as a food owner, you don't have to go all out and make it similar to "Bistro du Lion," but gourmet food trucks would have to be decorated with high end accessories and artistic designs on the truck's wall depending on the set theme.
Though clients are not able to go inside the food truck, they are still able to see the inside; therefore, it is also important for the owner to maintain a clean work environment so customers can still experience the fine dining experience, even if they are outdoors.

Like To Meet The Chef?
One last benefit of having a fine dining food truck establishment is the opportunity to meet the one in charge and making the food. Food truckrs explains 
"When you have a fantastic meal, it's natural to want to thank the chef, but that isn't always possible at sit-down restaurants. However, in most cases, the person who takes your order at a food truck is the chef, making it rather easy to thank said chef for the amazing meal you just devoured."
Compared to an actual restaurant where there are many chefs and it is not as easy to speak with the chef, food trucks offer more leisure for customers to meet the owners; owners also tend to be the chef at food trucks.
By speaking to them, customers are able to experience more with their meals because knowing who cooked their foods, the chef's history and personality, makes the cuisine more alluring. 
Creating More Opportunities For Fine Dining Food Trucks 
If they are able to create a profitable gourmet food truck, they customers would be able to experience fine dining at a lower cost. In addition, food trucks are popular for their unique recipes so blending them with gourmet foods such as exotic spices, seafoods, and pastries would charm customers more.
Gourmet food trucks are often rare, so future business owners should have that mindset if they are thinking about establishing that type of style of foods for a  truck business.
Written by Anthony Ruiseco
---