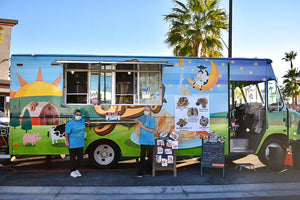 4 Reasons Why We Love Food Trucks And You Will Too
Gather 'round, foodies! If you're like us, your mouth is probably watering at the thought of a hot plate full of delectable treats, made to order in a matter of minutes. 
Fancy a burger and fries? How about frijoles, or a funnel cake? From college campuses, to festivals, or your local fair, food trucks are the go-to for a savory meal, while having a good time.
We had a chance to speak with Melanie, owner and operator of the famed food truck, For The Love of Gravy, and she shared some valuable insights into this local treasure.
Homemade Heaven
Original recipes, fresh ingredients and dedication are exactly what comes to your plate when you order from a local food truck vendor.
To begin her day, Melanie grocery shops for the freshest ingredients, then she prepares her dishes from scratch, by hand. A standard she has set for herself and will not compromise on that fact.
Take her deep-fried Popper Rolls, that are handmade with fresh Jalapenos, a Mexican, pepper jack cheese blend, with a side of her delicious Hatch Gravy. Are your taste buds singing yet? Because our mouths are watering! 
Meals ordered from a food truck don't sit under a heat lamp for hours on end. Your food is prepared fresh with every order, whose uniqueness and quality you can taste with every bite.
They're Up to Code and Ready to Roll
The days of grease meals-on-wheels are over. Today's food trucks are held to the same strict standards of health and safety as your regular, brick and mortar restaurant.
"The health department can come and inspect my truck anytime," says Melanie, so taking shortcuts on health and cleanliness will not be tolerated by her or her team, ever.
According to Lavu.com, a health inspector has a list of items that must be thoroughly checked before a truck can pass inspection. This includes proper food preparation, employee hygiene, and paperwork to ensure all licenses and permits are up to code. 
The Perfect Solution for Social Distancing
We're all used to it by now, ordering from our favorite food delivery services to help satisfy our cravings while staying home in quarantine.
Remember wanting to get dressed up, but having nowhere to go?? Well, thanks to the convenience of our local food trucks, those days are over.
These trucks are the perfect solution for being able to enjoy good eats, and a nice day beyond the T.V, for once. The outdoor setting allows for maximum social distancing, and if you're leery of dining in you can do it safely, but outside!
Like most food trucks, For the Love of Gravy is a one stop shop. Melanie's customers take their food to go, while safely enjoying their meals away from large crowds. 
"We wipe down our card reader after each use. It sounds like a bit much, but it's necessary," says Melanie.
It's not too much, at all, by our standards. As for getting cute for the couch while waiting for our Uber Eats order? So last season.
Location, Location, Location
One of the greatest advantages a food truck has is its mobility. As long as the truck has a license to operate within a county, along with permission to park in a particular locale, chances are they'll set up shop.
The world is slowly opening back up and consumers are eager to get out and resume their usual activities, maybe even try some new ones.
A festival with various aromas from the plethora of food trucks wafting through the air, with plenty of outdoor space to have fun and stay safe, is the perfect attraction. 
The added value is that it gives the community greater access to their favorite mobile eateries, as they are likely to be somewhere their patrons can easily access. 
We, as a society, are looking for some semblance of normalcy, and like their ingredients, For the Love of Gravy helps to provide the perfect balance of safe and savory for our community. 
Special thanks to Melanie, and her amazing family at For the Love of Gravy.
Your brand and digital presence are the best investments you can make in your business. And with our Web Based Menu hosting service, we take care of it for you. We build a custom web based menu for your restaurant!
All for less than $20 a month.
Simply upload your menu, logo, and images and we take care of the rest. Sign up today at The Foody Gram.
Written By Beatrix Whilde
---