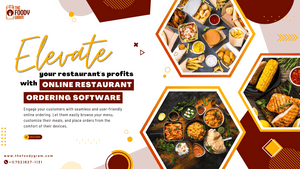 Elevate Your Restaurant's Profits with Online Restaurant Ordering Software
Welcome to the transformative universe of online restaurant ordering software, a revolutionizing force in the dining landscape. Are you aware of the rising consumer preference for online meal ordering?
Astonishingly, about 63% of people prefer the convenience of food delivery over dining out with family. Furthermore, customers placing online orders tend to visit the restaurant 67% more frequently than those who don't.
The incorporation of online ordering software can profoundly boost restaurant owners' revenue, providing the speed and convenience that customers crave when ordering. Moreover, online ordering extends several other benefits:
Enhanced Customer Engagement
Online restaurant ordering software provides customers with an intuitive interface for browsing the menu and effortlessly placing their orders. This added convenience encourages recurring visits from your customers.
Efficient and Accurate Order Processing
For restaurant owners, online restaurant ordering software ensures an automated order processing system. This eradicates the need for manual input into a POS system, a process often riddled with errors and time-consuming.
Profit Maximization
Online food orders constitute approximately 40% of total restaurant sales. With the implementation of restaurant ordering software, you can optimize profits through precise pricing and swift delivery times, resulting in increased revenue and healthier profits!
Investing in online restaurant ordering software is a strategic step for any restaurant aspiring to enhance sales. At The Foody Gram, we appreciate this necessity and offer professional web design services coupled with commission-free online ordering.
Our user-friendly online food ordering software is designed to save you money while distinguishing you from competitors with customizable options tailored to your restaurant's unique needs. Don't delay; leverage the benefits of The Foody Gram today and witness your business flourish!
For a free consultation, reach us at www.thefoodygram.com or give us a call at 702.827.1131. We are eager to assist you in accelerating your restaurant's growth.
---