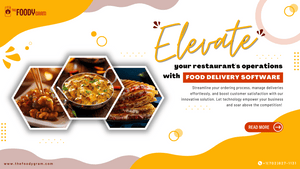 Elevate Your Restaurant's Operations with Food Delivery Software
Did you know that, according to Fundera, a surprising 59% of restaurant orders made by millennials are for takeout or delivery? As consumer trends evolve, the restaurant industry is challenged to stay afloat.
One innovative solution that can aid your business in meeting demands and enhancing efficiency is food delivery software. Let's delve into the profound benefits this transformative technology offers!
Expanding Customer Reach
In our digitally-driven era, 7 out of 10 customers choose the comfort of online food ordering and delivery. Therefore, possessing a proficient food delivery software is paramount.
This tool empowers your business to handle multiple orders concurrently, catering to customer demand and extending your scope beyond local boundaries.
Enhancing Operational Efficiency
Food delivery software facilitates the streamlining of order management and delivery. With a few simple clicks, you can readily track orders, assign tasks to delivery staff, and handle payment processing.
This results in quicker response times, improved customer satisfaction, and ultimately, increased sales.
Boosting Profits
Selecting credible and efficient food delivery software from reputed providers like The Foody Gram, allows restaurant owners to minimize costs and maximize profits. Our commission-free online ordering platform lets you retain more of your earnings, leading to improved overall margins, healthier profits, and a thriving business.
Subscribing to our online food ordering system is swift and straightforward. Just provide us with your menu and images, and our dedicated team will draft an online ordering page for you within 2-3 business days.
Upon your approval, we'll arrange an onboarding session to initiate your journey of accepting commission-free online orders.
So, don't hesitate! Register today and start enjoying the benefits of our intuitive and cost-effective food delivery software. With The Foody Gram, your restaurant business has the recipe for success!
For a free consultation, visit us at www.thefoodygram.com or give us a call at 702.827.1131. We look forward to assisting you in your restaurant business optimization.
---