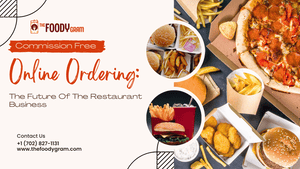 Commission-Free Online Ordering: The Future of the Restaurant Business
According to the National Restaurant Association, the food service industry's revenue is expected to hit an impressive $997 billion milestone in 2022.
This substantial growth is driven by the increasing popularity of online ordering, which customers appreciate and many restaurant owners have embraced. This trend is transforming the food and beverage industry, potentially making phone ordering a thing of the past.
Third-party delivery services and apps have also played a role in the continued success of online ordering. Customers can download apps on their smartphones, choose from various nearby restaurants, order with ease, and make instant payments.
However, this convenience comes at a cost for restaurant businesses, which must bear hefty commission fees. Our team at The Foody Gram aims to change the landscape by offering commission-free online ordering.
About our platform:
Restaurants using third-party ordering platforms like DoorDash and Uber Eats pay up to 30% of their revenue to these services. They must also contend with rigid contracts and lengthy waiting periods to receive their earnings.
In contrast, The Foody Gram offers a commission-free online ordering solution without contracts or commission fees. This means you can utilize our platform for an affordable flat fee, without worrying about lost profits or hidden costs. We believe our service is superior, as it enables you to take unlimited orders and receive payments directly into your bank account.
Affordably priced:
Our online ordering platform is available for a flat fee of $95 per month. We believe this is significantly more cost-effective than paying commission and service fees to third-party platforms. Additionally, you can seamlessly integrate The Foody Gram into your existing social media or website. Our branded solution can help attract new customers and retain current ones. If you need assistance with your website, our professional designers are available to help.
Additional benefits of The Foody Gram:
With our platform, you could save thousands of dollars in commission fees. It's user-friendly, allowing your customers to place orders without downloading an app.
Our robust and secure online food ordering solution enables you to manage customer interactions, handle orders, and expand your customer base. Furthermore, it's a mobile-friendly system that allows customers to create an account on your website. This feature makes it easy for customers to track their orders and reorder their favorite items.
Visit us at www.thefoodygram.com to book an appointment or call us at (702) 827-1131.
---