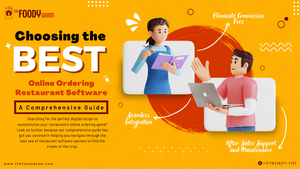 Choosing the Best Online Ordering Restaurant Software: A Comprehensive Guide
Finding the right online ordering restaurant software can be a pivotal step for your business growth. With online food ordering predicted to rocket to $220 billion by 2023—making up 40% of total restaurant sales—it's an area no restaurateur can afford to overlook. Notably, direct online order volume has seen an astounding 54% annual increase. 
Here at The Foody Gram, we understand the gravity of selecting an optimal website builder combined with an online food ordering platform, crafted specifically for the restaurant industry.
This blog aims to help you navigate the process, so you can confidently choose the software that best aligns with your needs and propels you to success in the rapidly evolving digital landscape.
Eliminate Commission Fees: Saving You Money
One of the key considerations when choosing an online ordering restaurant software is the commission fee structure. Third-party platforms often impose substantial commissions and service fees, which can severely cut into your profits.
The Foody Gram offers a refreshing alternative—a commission-free ordering system. This approach enables you to retain a larger portion of your earnings, accept orders, and process payments directly via your website or social media platforms.
Our solution leverages existing traffic and attracts new patrons, securely handling payments at the point of sale.
Seamless Integration: Enhancing Your Operations
Smooth integration is crucial to avoid operational disruptions and ensure a successful transition. The Foody Gram's software is crafted to integrate effortlessly with your existing website and social media platforms, offering an intuitive experience for your team and customers alike.
The result? An enhanced online presence and a more streamlined order management process.
After-Sales Support and Maintenance: We've Got Your Back
The final component to consider when selecting an online ordering restaurant software is the quality of after-sales support and maintenance offered.
A responsive and efficient support team can make a world of difference, swiftly resolving any issues and ensuring your system continues to run seamlessly.
At The Foody Gram, we're committed to providing top-notch after-sales support and ongoing maintenance, allowing you to operate with the peace of mind that we're always here to help keep your online ordering system performing at its best.
Don't let the opportunity to elevate your restaurant's online ordering experience pass you by. Embrace The Foody Gram today and witness firsthand the transformative impact our all-in-one platform can have on your business's trajectory. 
If you're ready to boost your restaurant's online ordering experience or you have further inquiries, don't hesitate to reach out to us at www.thefoodygram.com or call us at 702.827.1131 for a free consultation. We're here to guide you towards success in the online restaurant industry.
---