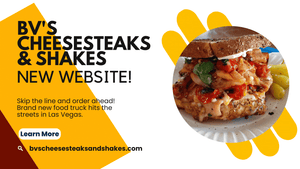 BV's Cheesesteaks & Shakes Launches Website for Simple Online Ordering
BV's Cheesesteaks & Shakes has made it simpler for customers to order food for pickup or delivery. They recently started an online ordering system with the help of The Foody Gram. Now, customers can quickly order their favorite dishes without needing a special app!
This new online ordering system helps BV's Cheesesteaks & Shakes save money and stand out from other food trucks. The Foody Gram created a custom system just for them, making it easier to grow the business and reach more people.
No More Commission Fees
Sadly, many food places have to use online ordering and delivery services that take about 30% of their money. This means they either have to charge more for online orders or lose money.
But The Foody Gram's online ordering system is different. It has a low monthly fee and no contract. Plus, the money from orders goes straight to the food truck's bank account.
Great For Business
Since starting the online ordering website, BV's Cheesesteaks & Shakes has seen more sales and fans. The system lets them show off their food, sell more dishes, and connect with customers in a budget-friendly way..
Do you have a food truck?
An online ordering system can help any size food business grow and save money. Give The Foody Gram's system a try! It can handle pickups, pre-orders, reservations, and deliveries.
Learn more by booking a demo. If you don't have a website, The Foody Gram's team can make one for you.
Thousands of food places, like BV's Cheesesteaks & Shakes, trust The Foody Gram. It has a strong history of helping restaurants manage orders and customer interactions online, improve their brand, and grow their business.
Don't miss out on a great opportunity to set up a commission-free online ordering system or website for your food truck or restaurant. Contact The Foody Gram online at www.thefoodygram.com or call (702) 827-1131. Our plans are affordable and have no contracts, making it easy for you to grow your business without breaking the bank. Get in touch with us today and discover how The Foody Gram can help take your food business to the next level.
---