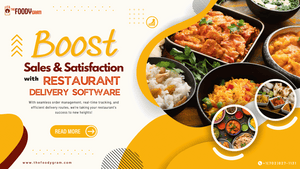 Boost Sales & Satisfaction with Restaurant Delivery Software
Did you know that 70 percent of consumers relish the convenience of ordering food online and having it delivered to their doorsteps? At The Foody Gram, we emphasize the necessity of offering a seamless dining experience to your valued customers.
Our all-inclusive website builder and online food ordering platform for restaurants come equipped with powerful restaurant delivery software. This article will delve into how the right delivery software can significantly augment your sales and customer satisfaction, ensuring your restaurant's success in the competitive food service sector.
Stay Ahead with Industry Trends
Staying in sync with industry trends is essential to remaining competitive in the restaurant industry. By incorporating The Foody Gram's delivery software, you can keep your restaurant in tune with customer preferences, addressing their desire for online ordering and delivery services.
This adaptability not only helps you stay relevant but also unveils new opportunities for revenue generation and growth.
Meet Consumer Expectations
Meeting consumer expectations is crucial for a thriving restaurant business. According to a study by Nation's Restaurant News, 77% of US customers regard speed and variety as either "important" or "very important" when selecting a restaurant for delivery.
With The Foody Gram's restaurant delivery software, you can efficiently cater to these expectations. Offering a diverse menu and speedy delivery service enhances the overall dining experience for your customers.
Boost Your Profitability
Enhancing your bottom line is crucial for your restaurant's long-term success. Our restaurant delivery software facilitates this by eliminating commission fees and providing an all-inclusive solution for all your services—including pick-ups, deliveries, and reservations.
By consolidating your offerings on one user-friendly platform, you can streamline operations, cut costs, and ultimately boost your profits.
Discover the transformative potential of The Foody Gram's restaurant delivery software for your business today. Don't miss out on the opportunities for higher sales and enhanced customer satisfaction. Sign up now and unleash your restaurant's full potential.
For more information, reach out to us at www.thefoodygram.com or contact us at 702.827.1131 for a free consultation. Let's together unlock new avenues of success for your restaurant.
---