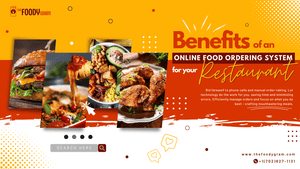 Benefits of an Online Food Ordering System for Your Restaurant
If your restaurant has yet to implement an online food ordering system, you may be missing out on valuable customers.
Here are some key benefits of adopting this dynamic system:
Expanded Reach
The number of seats and tables in your restaurant may limit its physical capacity, but with an online food ordering system, those limitations disappear.
By establishing an online presence through a website and ordering platform, you can connect with more potential customers, allowing them to order and pay for meals from the comfort of their homes or anywhere else.
Streamlined Ordering Process
An online food ordering system replaces complicated, manual processes of taking orders over the phone or in person. With an automated system that stores customer information, you can efficiently map out the order fulfillment process, ensuring a smoother experience for all parties involved.
Enhanced Efficiency
An online food ordering system simplifies order and payment management for your staff, resulting in increased overall efficiency. This not only saves time, resources, and money but also improves the customer experience.
Improved Customer Experience
Customers who use an online food ordering system visit a restaurant 67% more frequently than those who do not. This demonstrates that an online ordering system can significantly boost customer satisfaction, leading to increased loyalty and repeat business.
The Foody Gram specializes in providing restaurant and food truck businesses with comprehensive online ordering technology solutions and web page development services.
Our user-friendly, expertly managed services allow you to make changes to your menu, pricing, and more with ease while keeping customer information secure.
To learn more about our services and the benefits of partnering with us, visit www.thefoodygram.com or contact us at 702.827.1131 for a free consultation!
---