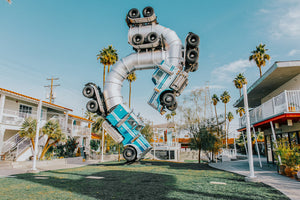 An Ever Expanding Downtown Las Vegas District
Downtown Las Vegas has always been an exciting and artsy area filled with growing opportunities. Every corner is filled with excitement, delicious eateries and best of all, booze.
Compared to the Strip, where restaurants and cafes are jammed into one specific area, Downtown Las Vegas is divided into smaller districts such as the Fremont district and the Arts district.
Conveniently, Downtown Las Vegas offers multiple events that attract both residents and tourists to bring forth income such as First Friday and Life is Beautiful. Unfortunately, due to the pandemic, these events are shut down, but that doesn't stop locals and tourists to check out the restaurants and cafes located there.
Let's checkout some of the delicious eateries located there.
Culturally Authentic
Downtown is home to a variety of foods. One popular restaurant is Carson's Kitchen on 124 South 6th Street. This delicious restaurant is best known for their gourmet burgers like the Butter Burger or their Flatbreads and sandwiches.Other fan favorites also include Chicken Skins and Smoked Honey.
Another delicious option is their Vegan Tacos that uses jackfruit carnitas and cilantro lime cream. Clients can also enjoy eating on their rooftop patio and watch the downtown view.
Another popular restaurant is Casa Don Juan which serves some rico Mexican food on 1204 South Main Street.
Casa Don Juan offers all arrangements of Mexican food from common tacos to burritos, to more authentic pork inside a chile.
There are a lot of options the clientele can choose from which makes Casa Don Juan a delicious choice to stop by and eat. Besides the food, the restaurant has portraits and paintings of Frida Kahlo, who was a famous artist in Mexico. 
Ferguson
A beautiful city block community called Ferguson Downtown on 1028 East Fremont Street. Although it doesn't have many food opportunities, it does offer a tasty coffee shop called Mothership Coffee for coffee lovers and the Vegas Test Kitchen. 
Starting off is Mothership Coffee, a place where students and creatives visit for a past time or to get their thinking brains to produce work. Veronica Clash, a writer for the Best of Las Vegas, states,
"The Manual Brew menu is a trip around the world led by the expert touch of your barista, featuring countries such as Colombia, Ethiopia and Peru. Each origin profoundly affects the flavor. Then there's the selection of espresso and lattes, which are anything but predictable, and include options like Bourbon Vanilla and Maple Cardamom."
Clash wasn't the only one who had tried this cafe, I also checked it out last year. When I went, I had the Cascadia Decaffeinated and it was delicious. The coffee is best known in Peru, Indonesia and Honduras, where it is made from citrus leaves and cocoa (Mothership Coffee).
During any day besides Monday and Tuesdays, visitors can check out their Vegas Test Kitchen, which is where local chefs come and test out new cuisines for people. Different chefs come during different days. For example, Chef Lanny Chin of the Slurp Society visits every Wednesday, Thursday and Fridays from 11am to 7pm while Chef Andrea Mclean bakes appetizing pies Wednesday thru Sundays (Vegas Test Kitchen). 
Opportunities to Grow
Downtown Las Vegas was not always this culturally appealing. It wasn't until the DTP (Downtown Project) was founded back in 2012, where the biggest changes were able to be seen. This accelerated the areas growth and transformed it into a hub of businesses and culture we see today.
John Goostre, a guest blogger for the DTP, writes "Tony Hsieh, CEO of Zappos, decided to jump on the opportunity to help sway this change in the right direction with the creation of the Downtown Project." Seeing the opportunities that Downtown Las Vegas has, he quickly shifted the old downtown to something bigger with more business opportunities, art, and best of all, many restaurants.
According to the DTP website, "To date, DTP has allocated/invested $350 million towards this vision, resulting in more than 165 new businesses and more than 1,000 new jobs."
In fact, DTP invested in Vegenation, which is a popular healthy Vegan joint. DTP also invested in Bin 702, one of the eateries within Container Park, a shopping and eating experience located just a few blocks away from Fremont street. 

Whether it is to just to explore the restaurants in downtown or to expand one's food business, downtown is a rewarding experience for everyone. Downtown continues to expand and reinventing itself to become more appealing for everyone. I recommend checking Downtown Las Vegas whenever you have time.
Written by Anthony Ruiseco
---