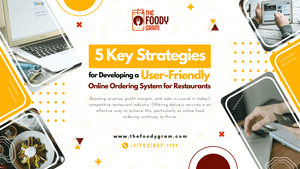 5 Key Strategies for Developing a User-Friendly Online Ordering System for Restaurants
Boosting revenue, profit margins, and sales is crucial in today's competitive restaurant industry. Offering delivery services is an effective way to achieve this, particularly as online food ordering continues to thrive.
You can easily get started by using third-party platforms or dedicated online ordering systems, with the best choice depending on your budget and customers' preferences. To avoid high commission and service fees, consider using a customizable online ordering system like The Foody Gram.
The Foody Gram streamlines the integration of an online ordering system into your restaurant's existing website or social media channels. It offers customized solutions that help leverage your current traffic while generating new opportunities, as well as providing a secure method for processing payments online.
As a result, you can eliminate commission fees and increase your income.
Creating a user-friendly online ordering system
An effective online ordering system for restaurants can significantly boost your sales, but only if it's properly planned and executed. A poorly executed system can damage your brand reputation and decrease traffic. To prevent these issues, follow these best practices for developing a user-friendly restaurant online ordering system:
Select the ideal technology from the beginning
Work with a reliable and cost-effective online ordering system like The Foody Gram. By doing so, you'll gain access to a professionally designed web-based menu and a commission-free online ordering solution that can enhance your online presence.
Facilitate secure and convenient payment processing
Ensure your online ordering system supports multiple popular payment methods. Verify the platform's ability to securely process payments immediately, integrate with your POS system, and directly deposit earnings into your bank account.
Optimize your website for search engines and mobile devices
Effective search engine optimization can significantly impact your website's online visibility. Choose an online ordering system with an SEO service that makes it easy for customers to find your site. Additionally, ensure that your website is mobile-friendly.
Design an easy-to-navigate online menu
Create a straightforward, concise, and informative menu, complete with appealing images to attract customers. The ordering process should be simple, allowing customers to add items to their cart and check out with ease.
Implement a reliable and up-to-date tracking system
Choose an online ordering system that allows you to monitor the entire delivery process, including riders, dispatch times, and order delivery times. Some solutions also help increase repeat business by providing a customer database for the easy distribution of promotional offers and marketing emails or text messages.
About the Company:
Founded by a digital marketing firm in 2020, The Foody Gram was created to help restaurants, food trucks, and other food establishments reach a broader audience. With The Foody Gram's Online Ordering Software, customers can effortlessly order food, reserve a table, or request takeout assistance. The software aids in expanding your restaurant's online presence, attracting more customers, and ultimately increasing revenue.
Call us today at (702) 827-1131 to book a free consultation.
---