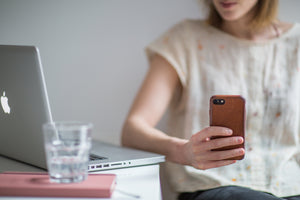 5 benefits of a web based menu for small restaurant owners
Technology makes our lives easier. It has enabled us to speak to family members many time zones away or find the answer to any question at the click of a button.
The coronavirus pandemic has accelerated our adoption of technology. This is no different for the food industry.
QR codes and PDF menus are quickly replacing traditional menus. 
Web based menus are becoming the new normal that is sweeping the restaurant industry. Here are 5 benefits on why you need to switch over to a web based menu immediately.
1. Increased brand awareness
Branding is everything. It's the reason why a cup of coffee from Starbucks costs $5 compared to $1 at a smaller coffee shop.
Other menu and online ordering services don't allow you to brand your menu. Causing your food to blend in with all the other alternative options. Stand out and show off your brand! It's what makes you unique.
2. Your customers are online
Over half of the world's population is online. And nearly all of them are looking for places to eat.
A study conducted by OpenTable indicated that 87% of people use the internet to find a restaurant, and 86% of the same group used it to check out their menu. 
Here are a few more statistics from that study. 
Meet your customers where they are, ONLINE!
3. Searchable text
The world revolves around search. Nearly 4 million google searches take place every minute. That's a lot of searches!
Search engines use technology called spiders to crawl a web page for key words and meta descriptions. PDF menus are sourced as images, and this technology is unable to crawl your menu. This means your PDF menu will not be found!
Replacing your PDF menu with a web based menu allows for the search engine technology to crawl your text and provide your menu to hungry customers who have searched for you.
4. Food is visually stimulating
Let's do a quick experiment. What description gets you more excited?
The House Burger: Artisan bun, fresh arugula, chopped cherry tomatoes, crispy bacon, and an organic beef patty drizzled with teriyaki sauce. 
Or this picture…
I thought so too. No one will ever turn to a friend and say, "Wow that written description made my mouth water." Visuals always beat out written descriptions.
5. Customers do not like surprises
Customers are constantly being fed information, 24 hours a day, 7 days a week.
Options are plentiful and we have all fallen victim to getting a plate of food that is different than what you expected.
This happens to me all the time at "All You Can Eat" sushi. I'll order a roll that I thought I understood, only to get something completely different. All because I misinterpreted a single ingredient.
Show them exactly what they will get with a mobile optimized web based menu that contains your best pictures of your food.
Your brand and digital presence are the best investments you can make in your business. And with our Web Based Menu hosting service, we take care of it for you. We build a custom web based menu for your restaurant!
All for less than $20 a month.
Simply upload your menu, logo, and images and we take care of the rest. Sign up today at The Foody Gram.
---