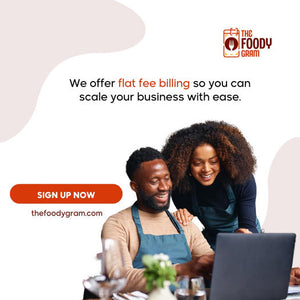 4 Ways You'll Save Money By Switching To An Online Ordering System
As inflation reaches new highs around the world, business owners are finding ways to save money. Many restaurants are still picking up the pieces post pandemic. Low staffing levels, high commission fees, and rising cost of goods continue to pose many challenges.
Advancements in the technology space have helped many restaurant owners decrease monthly expenses while also offering their customers a high level of service. One solution restaurant owners have begun to implement is an online ordering system. One provider, The Foody Gram, boasts savings of over $3,000 per month for some restaurants.
Here are a four ways setting up an online food ordering system for your restaurant will save you money.
Decrease Miscommunicated Phone Orders
Phone orders are prone to miscommunication and misunderstandings between customers and your staff. Orders taken over the phone can be misheard and miswritten, causing a poor customer experience.
Restaurants often make up for those mistakes by spending more money to fix the order and meet customer's expectations. However, making a new meal for someone takes time and requires using up more ingredients, and the unwanted food or wrong order often goes to waste.
By switching to an online ordering system, you can prevent unnecessary frustration and waste. Customers can place orders and even pay ahead of time in just a few clicks. Your restaurant staff will receive orders instantly via tablet and printer to make for an efficient process.
Eliminate High Commission Fees By Third Parties
Third-party delivery services like Uber and Doordash charge restaurants high commission fees to use their services. These commission fees can be as high as 30%. By implementing their own online ordering solution, restaurant owners stand to instantly decrease the amount of commission fees paid out to other businesses.
The Foody Gram's online ordering system is extremely affordable starting at only $95 a month. Switching to their flat fee online ordering plan can help your restaurant save a ton of money each month!
Quick Updates
Need to make updates in a timely fashion? Simply call The Foody Gram and their support team will make all your updates for you. Save time and focus your efforts on areas that require it the most.
Ensure customers always have access to the latest options, seasonal dishes, daily specials, and other time-sensitive items. Decrease the hassle and customer frustration of ordering something that isn't available anymore.
Integrate Directly Into Existing Digital Infrastructure
An online ordering system for restaurants allows you to showcase your best food and reach more customers while building brand awareness online. Create an easy to use ordering system that is linked everywhere you are online. The best part is your customers don't need to download an app to place orders.
If you have a website, you can integrate the online ordering system with it instantly. Don't have a website, no problem. The Foody Gram's online ordering subscription comes with a professionally designed website to help you generate more traffic fully equipped with SEO services.
Save money and earn more.
An online ordering system can decrease commission fees and allow you to take more orders conveniently from anywhere. Contact The Foody Gram for an established and reliable online ordering system for restaurants. Their monthly plan is affordable and comes with no contracts ever.
Call The Foody Gram at (877) 762-1512 or fill out the lead form below for a free consultation.
---