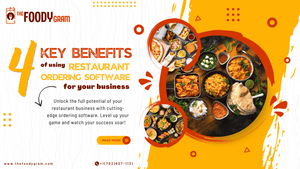 4 Key Benefits of Using Restaurant Ordering Software for Your Business
As the digital revolution advances, restaurants must adapt and fulfill evolving customer expectations. The Foody Gram's restaurant ordering software presents a comprehensive solution that propels your business forward in this competitive arena.
In this article, we'll highlight four primary benefits of employing our all-encompassing website builder and online food ordering platform to bolster your restaurant's efficiency, boost sales, and enhance customer satisfaction.
Broaden Your Customer Base
Expanding your audience is vital for a restaurant's success. With 69% of consumers worldwide ordering food delivery at least once a month, the potential market is considerable.
The Foody Gram's software paves the way for you to extend your reach, providing a smooth online ordering experience that captures these frequent users' attention and catalyzes business growth.
Elevate Customer Convenience
Today's fast-paced lifestyle demands convenience. Our restaurant ordering software prioritizes this by delivering a platform optimized for user-friendliness across all devices.
Whether they're using a smartphone or a computer, customers can place orders effortlessly. This heightened level of accessibility ensures a smooth and enjoyable ordering experience, fostering customer loyalty.
Maximize Savings
Reducing expenses is critical for any business. The Foody Gram's restaurant ordering software facilitates this through a commission-free system. By enabling direct order and payment acceptance via our platform, you save substantially on fees otherwise paid to third-party ordering apps.
This saving allows for further investment in enhancing your restaurant's growth and customer experience.
Secure Your Revenue
Achieving a consistent revenue stream is essential for your restaurant's sustainability. The Foody Gram's software aids in this pursuit by amplifying customer reach and convenience, thus ensuring a steady income source. Leveraging our solution can lead to significant profit growth in today's competitive market.
Ready to tap into your restaurant's untapped potential? Experience the transformative benefits of our innovative restaurant ordering software by signing up for The Foody Gram today.
For more information or to schedule a free consultation, visit www.thefoodygram.com or call us at 702.827.1131. Let us guide you towards flourishing success in the online food ordering landscape.
---