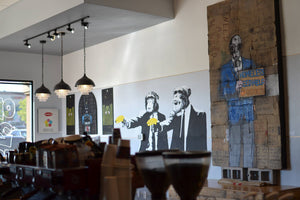 Hot or Cold, Its Always Coffee
It's always that time of the week, when it's barely Monday, so let's get ready for work by putting on the uniform and getting the coffee brewing!
Coffee has always been a very popular drink. And coffee shops often act as a safe haven for students, dreamers, artists alike. These communities gravitate to these cafes for the ambiance, pastries, and a Hot or Cold beverage.
Cafes are more than just a place that serves coffee. Coffee houses create an impactful vibe to their clients best known as the third place theory, originally discussed by sociologist, Ray Oldenburg. 
Madhouse Coffee & The Third Place Theory
The Madhouse Coffee, located on 8470 W Desert Inn Rd, has a little bit of what anyone can ask for when they want a chill environment.
Coffee, check.
Tea, check.
Sandwiches, check.
Desserts shaped like private parts, check.
Hookah, check.
Did you read that correctly? Yes, you did! What makes The Madhouse Coffee unique is not just their delicious coffee but their explicit desserts shaped like a punis. They call it, "Dicks Made by a Lesbian."
By being one of the only coffee houses that provides hookah sessions, and using their humorous atmosphere, this allows them to cater to a broader community.
For this reason, The Madhouse Coffee and all other coffee shops are labeled as a "third place."
Lindsay McCunn, a psychologist for the Psychology Today website states,
"Many others must feel the same because this experience is why coffee shops are often marketed as a 'third place' (a setting outside of the home and beyond the traditional workplace)."
Since coffee shops gear towards that familiar setting, it allows clients to stay there for long periods of time and bring in extra cash. 
The Bronze Cafe
The Bronze Cafe is a delicious, LGBTQ friendly cafe that serves delicious "sammiches", salads, healthy smoothies and coffee.
Once located inside the LGBTQ Center of Southern Nevada, the owners expanded to a bigger kitchen in Downtown then on it's current address on 2380 N Buffalo Drive in suite 110.
Besides their open minded atmosphere, their drive for healthy eatery and coffee is what makes them unique. According to David Mozes, the owner of Bronze Cafe, 
"We are really proud of our choice to be what we call a fit-friendly cafe. While our focus [is] on sammiches, salads, soups, smoothies, lattes, and sweets, we also have lots of vegan options, gluten free options, and keto friendly options while also doing justice to our non-vegan meat and dairy options. We recently relaunched our iced and hot latte menu and committed to a dairy-free and sugar-free coffee bar in order to greatly reduce the calorie counts on our lattes."
Las Vegas is a growing city and within the valley are the ever expanding gyms and fitness lovers. Although gym-goers enjoy eating at home, they also are fond of eating at delicious and nutritious restaurants.
Vegans are also a significant part of the community and not many restaurants and cafes gear towards them. The Bronze Cafe's drive of having healthy food helps bring in their clients. Therefore, it is always important to be inclusive to all customers. 
The Coffeeshop Hidden In The Valley
One final factor within the coffee house community are their atmosphere or themes. A perfect coffee place to express an unique theme is Gabi Cafe & Bakery on 5808 Spring Mountain Road, suite 104. A beautiful, large coffee house with a mix of modern, rustic, and ornate furniture.
Although the cafe serves appetizing danishes, desserts, coffee, salads and more, it is their decor that attracts clients. Even on their homepage, they acknowledge their aestheticism:
"The visual identity of Gäbi Coffee & Bakery is the end of Chosun Empire period which is a blend of traditional oriental culture and modern western culture."
By establishing that vibrant atmosphere, customers are able to spend more time in a space created for them. A third place.
According to the website Truic, "[A study] showed that a coffee shop's product only accounts for 48% of a customer's emotional connection to the business. That leaves the remaining 52% up to other factors, such as the cafe's environment."
Therefore, a cafe's theme is crucial for their business to appeal to their audience.
Cafes truly feel like a third home for coffee lovers, students and artists. They sell numerous healthy and delicious goodies and best of all coffee. They use their welcoming and inclusive ambience to welcome customers all colors, sexualities and eating habits.
Finally, with their uncommon themes and decorations, they are able to lure their customers to a new reality. Coffee Shops are my go to place whenever I need to brainstorm for a writing project or just socialize with friends. I hope you check out the cafes that I have mentioned and others and if you're someone who wants to open up a cafe, I hope these helped inspire you more. 
Written by Anthony Ruiseco
---